Want to make symptom survey collection a breeze? Clear Concepts has got you covered!
It's no secret that keeping tabs on staff and other visitors entering your workplace is a concern these days. Even on my limited journeys, I've seen business and institutions screen visitors and collect symptom information in a variety of ways; Apps, Paper-based forms, or simply asking thirteen 'Yes or No' questions out-loud...
Could there be a better way, using the Microsoft 365 toolset? You bet - and we have options from simple, to automated, to integrated!
Simple - External Visitor Survey
Many businesses have recently taken-on the responsibility of collecting visitor contact information. If the need arises, this information can aid with contact tracing, and getting the word out to other visitors who may have been in proximity of another symptomatic individual.
What we don't want to see... Paper, clipboards, and confidential visitor information laying around for anyone to grab. Instead, imagine a completely digital symptom survey hosted in Microsoft Forms - part of most Microsoft 365 subscription plans. Using Microsoft Forms allows businesses to request visitor information securely, customizing questions, and getting the appropriate contact information. Best of all, guests can access the survey contact-free from their own smartphones by scanning a QR code at your business entrance.
Here's a sample of what your symptom-check survey might look like after scanning a unique QR code: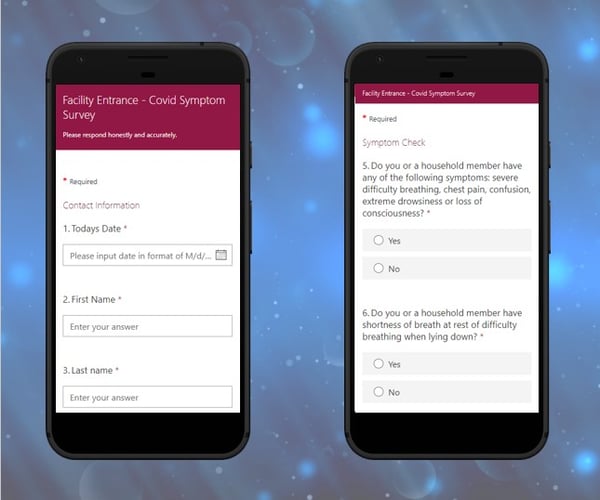 Again, this is a key example of how visitor and customer information can be passively collected and stored securely. Nothing fancy here... Just rock-solid data collection. Act on the information when you need it.
Automated - Daily Staff Email
Let's add an option for staff, and let's put the power of automation to work for us!
In this example, every morning around 6:00am (or before any of your colleagues have left for work in the morning), an email is automatically sent with a corporate Covid Symptom Survey. Your staff could complete a survey similar to the Microsoft Forms example above and automatically receive clearance to attend work. This is accomplished using a few of our favorite Microsoft 365 tools, including Power Automate to automatically email your colleagues each morning (accessible from either their mobile phone, or home computer):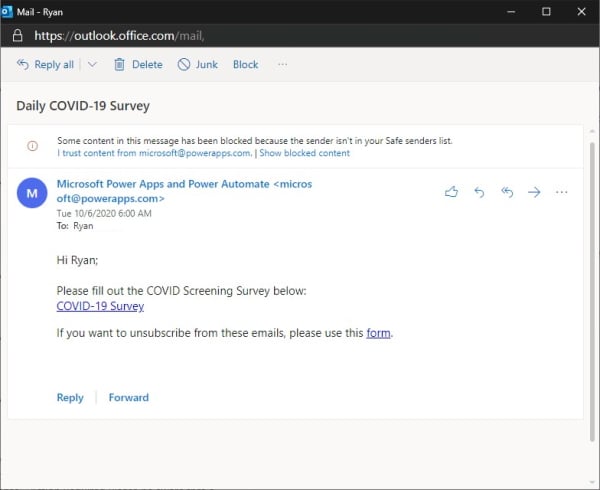 Let's continue to make this more useful with additional automation features. Using Power Automate, it is simple to create workflows that are triggered by various 'answer' conditions or values. If a co-worker answers "Yes" to any symptom = automatically email their manager and HR the information. Or if the employee answers "Yes" = automatically provide a text notification to stay home and block-out their Outlook calendar for the day.
By storing response data in a SharePoint list for example, the automation triggers for alerts and workflows are only limited to your needs, and your imagination!
Integrated - Based on Staff Shift Location
Emailing all staff each morning of every workday as described above casts a very wide net. Could we make the experience more precise based on when a worker is scheduled? Instead of an email, can we deliver a chat message in Microsoft Teams? The answer to both... is yes.
Let's first start with what the trigger will be to send the survey... Shift data! By leveraging both the Shifts app for Microsoft Teams, and Power Automate we can set a sophisticated trigger based on where and when the staff member is working. Shifts is incredibly powerful and mobile-friendly by the way, here's a deeper look at it:


In the following screenshot, you can see a user has already locked-in a few shifts for the week: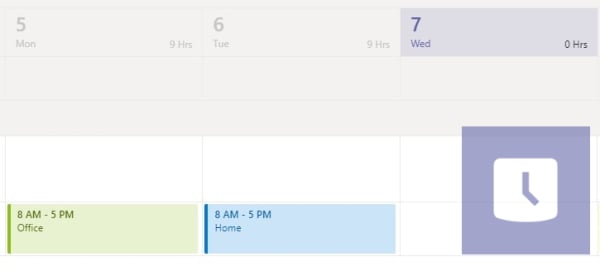 If a shift is marked "Home", or the employee has no shifts scheduled on a particular day, there is no sense collecting a survey. However, you can setup a variety of shift 'tags' or categories (Office, Warehouse, Site A/B), which can then be used to fire the survey email, or even a chat message in Microsoft Teams letting the employee know they are clear to come on-site.



Want to implement one of these solutions at your workplace? Contact Us today to learn how we can help unlock these tools in your Microsoft 365 subscription. Or ask how you can get these solutions for free when you join our Modern Workplace program.
Don't have Microsoft 365 or Office 365? This is a great time to consider adding a Microsoft 365 subscription at your workplace. Don't forget that the least expensive ($6.40 per user, per month) plan, "Microsoft 365 Business Basic", contains all of the components needed to build any of the solutions detailed above.