The entire Clear Concepts team is excited to share news of our most recent accomplishment!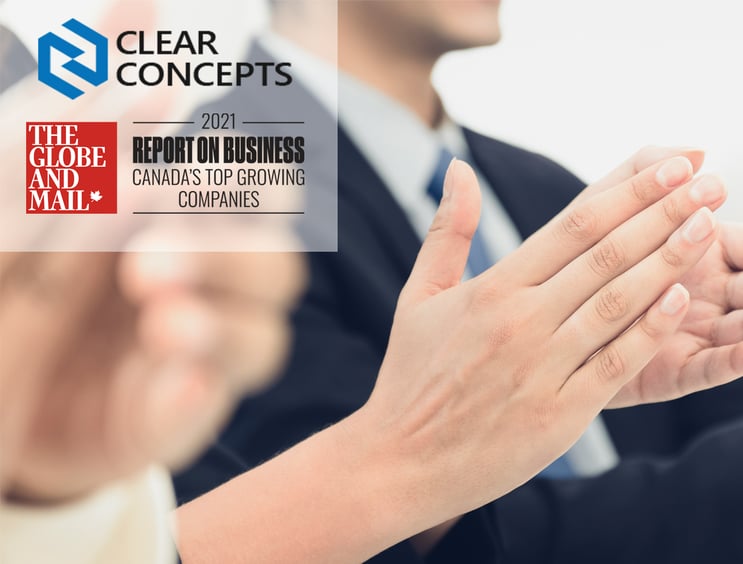 We are pleased to announce Clear Concepts has placed No. 382 on the 2021 Report on Business ranking of Canada's Top Growing Companies. Launched in 2019, the Canada's Top Growing Companies editorial ranking aims to celebrate entrepreneurial achievement in Canada by identifying and amplifying the success of growth-minded, independent businesses in Canada. It is a voluntary program; companies had to complete an in-depth application process in order to qualify. In total, 448 companies earned a spot on this year's ranking. This list ranks companies on three-year revenue growth. Clear Concepts earned its spot with three-year growth of 76%.
The full list of 2021 winners, and accompanying editorial coverage, is published in the October issue of Report on Business magazine—out now—and online.
Clear Concepts growth continues at a rapid pace as the demand for digital transformation assistance services takes off.

"Our Modern Workplace Practice has been deeply impactful for many of our clients, delivering value and improving outcomes of transformative initiatives. Over the last year, the Pandemic has been the catalyst for many organizations to embrace remote work, improving collaboration and co-working strategies, and automating business processes. Being recognized by the Globe and Mail on this prestigious list is a testament to the hard work and tenacity of our team"

Glenn Kemp, Managing Partner - Clear Concepts
"As we look toward the future, Canada's Top Growing Companies offer both inspiration and practical insights for other firms facing similar challenges. The entrepreneurs behind these companies are smart, tenacious and unwavering in their commitment to their goals."
"Any business leader seeking inspiration should look no further than the 448 businesses on this year's Report on Business ranking of Canada's Top Growing Companies. Their growth helps to make Canada a better place, and we are proud to bring their stories to our readers. "

About The Globe and Mail
The Globe and Mail is Canada's foremost news media company, leading the national discussion and causing policy change through brave and independent journalism since 1844. With award-winning coverage of business, politics and national affairs, The Globe and Mail newspaper reaches 6.4 million readers every week in print or digital formats, and Report on Business magazine reaches 2 million readers in print and digital every issue. The Globe and Mail's investment in innovative data science means that as the world continues to change, so does The Globe. The Globe and Mail is owned by Woodbridge, the investment arm of the Thomson family.

About Clear Concepts
Clear Concepts is a dynamic company that is a leader among IT companies in Canada. Clear Concepts takes a fresh and team approach to IT. We partner with our clients to ensure that we understand the technology needs specific to their businesses and the frustrations experienced in the past. We design sensible and scalable solutions that set a foundation for growth, stability, and productivity of the whole organization, and then work with the client to develop a sustainable means of supporting the environment.
Clear Concepts has been in business for over 20 years and have a strong technical team. We have years of experience in assessing, deploying and maintaining technology for businesses, and non-profit organizations. Clear Concepts provides complete or partial outsourced IT services for clients not only in Winnipeg, but throughout Western Canada. Our business only succeeds with the continued confidence of our clients. We are proud of the fact that the majority of our current clients were referred to us by other clients.
On behalf of the entire team at Clear Concepts, we would like you thank you for your continued support. We look forward to delivering even more value to our customers in the coming months and years!
Click Here to see the full Report on Business list.