It is time to give firstline workers a seat at the technology table. Empower them with a simple and manageable Microsoft 365 subscription. Tips inside...
As COVID-19 continues to impact organizations of all sizes, we have heard of many businesses across various industries struggling to keep task-oriented roles active on payroll. Occupations on the firstline (retail sales, service industry, tourism, and accommodations) were likely the first to be cut during pandemic-caused business closures.
On a brighter side, these roles have the potential to be quickly replenished once the pandemic subsides. When we deal with the number of new employees joining or re-joining a workforce, finding new efficiencies for these workers will be key. Since firstline roles have not typically experienced the same "work from home" circumstances as their colleagues - it is prime time to take the lessons learned during the work from home rush and reapply them to firstline roles.
Consider the following ways to digitally transform the work environment for firstline workers, maximizing communication, collaboration, and wellbeing:
Task Management
If you are a team lead, supervisor, or manager with any number of direct reports, chances are high that you are already using a system for recording tasks yourself. Using a tool like Microsoft Planner, managers can easily create Plan Boards for various projects, and assign individual tasks to teammates.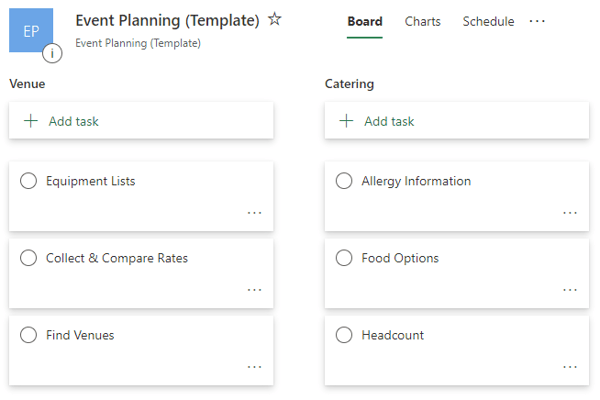 Since Microsoft Planner capabilities are included in Microsoft 365 F1 (a firstline-specific SKU), task-oriented workers would have access to these Planner boards, and task assignments. Better yet, employees can report task progress and completion back to their supervisors all from the Planner or Teams mobile apps!
Click Here to read more about Planner.
Modern Scheduling
It's time to get rid of paper-based work schedules! Microsoft Teams has some great additions for firstline workers including Shifts - a solid approach to Team-based shift and schedule management. Management can create schedules for weeks or months at a time, communicate daily/shift tasks, and more. Employees can select the shifts, swap shifts with colleagues, and even request time-off.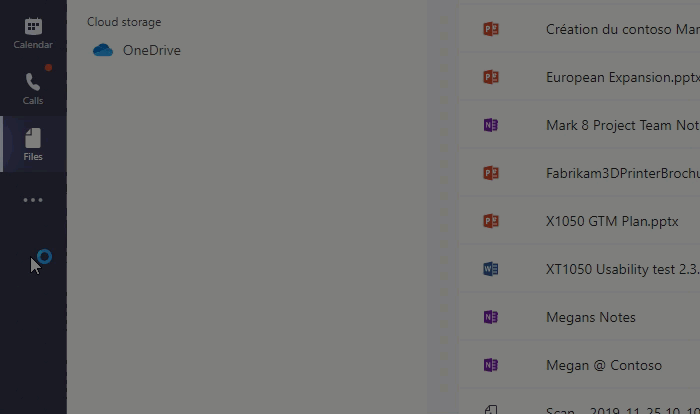 Click Here to learn more about setting up Shifts.
Time & Attendance
Don't forget that Shifts in Teams has a Time Clock built in! Now firstline workers are able to record their work hours by "clocking-in and out" without the need for a physical time recorder. All data is recorded in the Shifts app and available for supervisors, including the Clock-In/Out GPS location.
Click Here to learn more about setting up Time Clock in Shifts.
Collecting Information
Firstline workers schedules and working-times may vary greatly from their supervisor's and management. It is still important to keep-in-touch at all levels.
Using an app like Microsoft Forms allows HR departments or managers to easily collect survey and poll responses. These responses can even be made anonymous to encourage more participation. Get your staff's thoughts on projects, collect wellness information, poll the team for team building ideas, or to find out what staff benefits need improved - there are plenty of applications for surveys created in Forms. Firstline workers do not need an email address or a computer to participate - share your survey or poll inside the Microsoft Teams app for maximum impact.
Click Here to learn how to setup your first Form.
Access to Company Materials
Firstline-specific Microsoft 365 subscriptions also include the ability to access SharePoint. That means resources like training manuals, standard operating procedures, and HR-related documentation can be stored centrally on the cloud, and securely accessed by employees anywhere.
There is a great deal of potential here to streamline new employee onboarding and training. A central location for current documents is a great start! If a firstline worker runs into a situation, they can search the organizational knowledgebase from their SharePoint mobile app.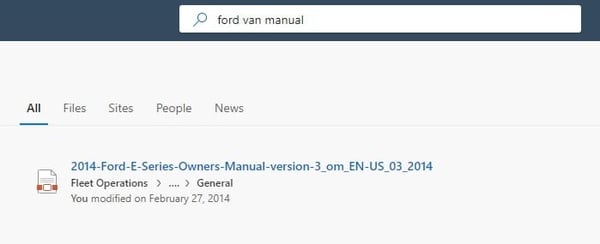 These simple, yet powerful digital work-steps can be easily deployed to a firstline staff with Microsoft 365 subscriptions. The best news is that Microsoft has recently tweaked their Firstline subscription offerings - meaning it's less expensive to equip firstline roles with a very specific set of features and capabilities.
Businesses may already provide work-issued smartphones - and others may employ a "Bring-Your-Own-Device" (BYOD) model. Either way, adding a cheap Microsoft 365 subscription for staff on the firstline - those without a routinely-used desktop or laptop - can pay dividends in terms of better communication, increased collaboration, and faster learning.