Our Process
Clear Concepts is one of Canada's 50 best Managed Service Providers. Our success is based on the experience and training of our employees and adherence to proper service management process. The six-step process, called CC Foundations, is designed to ensure our services align with client expectations, business strategy and goals. The principals of CC Foundations ensure our clientele are positioned to take advantage of increased productivity and efficiencies inherent in the outsourced IT solutions we deliver.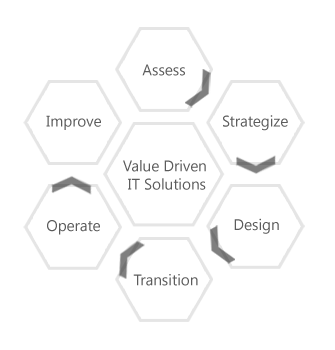 CC Foundations is our six-stage service delivery process that is centered on delivering business value to our clients.
Assess
During the Assessment phase, we get to know you and your environment. Rather than take the cookie-cutter template approach of some of our competition, Clear Concepts holistically evaluates the existing infrastructure to better understand the impact of technology on the organization and its employees. We think this is a better strategy than defining deficiencies based on age of equipment or versions of software.
Strategize
During the Strategy phase, we sit down with key stakeholders to understand how IT services can be an enabler of organizational success. What underlying IT issues are inhibiting growth? How can IT be transformed from a cost to profit center? We inform and educate as a foundation to cooperatively developing the forward thinking strategy.
Design
Based upon findings from Assessment and Strategy components of CC Foundations, the Design phase is about putting the pieces together into a cohesive and tangible IT services plan. This Services Plan will include pricing and details on all necessary upgrades, changes, and ongoing service offerings for consideration and evaluation. The goal of this phase is to ensure our approach aligns with business objectives and budget.
Transition
The Transition phase is about bringing the Services Plan to life in a managed and controlled way, ensuring downtime it mitigated wherever possible. Change control is one of the most important aspects of service delivery and we leverage enterprise grade IT automation tools to help ensure every aspect of our work is done accordance with best practices.
Operation
Delivering and supporting operational IT services is a fundamental component of our business. Clear Concepts has developed an extensive set of flat-rate and on-demand managed IT services that are combined to form a customized and sustainable solution set. We ensure your environment and investments are protected while keeping ongoing costs under control.
Improve
We regularly review our processes and procedures to ensure we remain aligned with the ever changing business priorities of our clients. Our focus is on improving quality, reducing costs, and improving effectiveness of our IT services wherever possible. We are experts at ensuring technology is correctly and appropriately applied to ensure your business stays ahead of the competition.
Need More Information ?
Do you have a specific question and need a straight forward answer? Call us today 204-943-4777 or Toll Free 1-866-943-4777.