Clear Concepts named to the 2015 MSPmentor List of The World's Top Managed Service Providers
Clear Concepts Business Solutions has been named to the Penton Technology's eighth-annual MSPmentor 501 Global Edition, a distinguished list and report identifying the world's top 501 managed service providers (MSPs).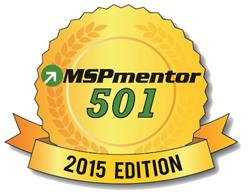 "Clear Concepts is honored to be recognized among the top managed services providers from around the world" says Managing Partner Phil Proctor. "This achievement reflects the commitment to solving our clients' business challenges and the dedication of our team. "
Each year, MSPmentor gathers information for its annual rankings through the participation of managed service providers and IT service providers in our annual survey. The survey was conducted from December 2014 through January 2015. Rankings are based Penton Technology's unique criteria for MSPs such as annual recurring revenues, total revenues and more.
"We want to congratulate Clear Concepts and look forward to covering their growth strategies in the year ahead," said Marcia Parker, Executive Director, Penton Technology Group.
This year the top MSPmentor 501 companies recorded higher recurring revenues than ever before. Combined, the total annual recurring revenues for all of MSPmentor 501 2015 companies reached a record high of $3.95 billion in 2014, up 26.5% year over year.
"Thank you to all the companies who participated in this year's MSPmentor 501 survey, and congratulations to the companies that ranked on our 501 list, our regional lists and our Small Business list," said Jessica Davis, Editor in Chief of MSPmentor and Executive Editor at Penton Technology. "Your participation enables us to continue to provide you with high quality information about the most successful business models, pricing, vertical markets and other approaches to running your businesses in 2015 and beyond."
MSPmentor, produced by Penton Technology, is the ultimate guide to managed services. MSPmentor features the industry's top-ranked blog, research, Channel Expert Hour Webcasts and FastChat videos. It is the number one online media destination for managed service providers in the world.
About Penton
Penton drives performance for more than 16 million professionals each and every day. They rely on us to deliver: Insights, information & workflow tools to inform critical business decisions; networking & community to engage them with industry peers & partners; and data & marketing services to advance their business performance & deliver ROI.
About Clear Concepts
Clear Concepts is a leading IT solutions provider in Manitoba specializing in expert services that support many small businesses throughout the Province and across Canada. The company uses state-of-the-art Remote Managed Service (RMS) technology and has a team of qualified experts to remotely maintain and support all aspects of business technology requirements, with little to no intervention required by the client. Clear Concepts also provides unique customized services accomplished through a comprehensive network assessment.