You've setup your first team, now let's get organized. Written article inside
Team Channels are used to breakdown your group's work into logical and meaningful categories, so everyone knows where to share and collaborate from. Developing a process that describes the how and when for channel creation will help build consistency across your different Teams and aid everyone's overall understanding of how to use them.
Side-note: When I say "Team", I'm referring to a Microsoft Team. When I'm talking about a group of people (i.e.: a department), I'll refer to them as staff, members or as a crew. Clear as mud? Perfect... let's continue.
Examples of helpful channel names...
If your Team is designed for a department, some potential categories would be sub-departments (i.e.: the social media experts within the marketing department), a place to share knowledge, and space to collaborate on active projects.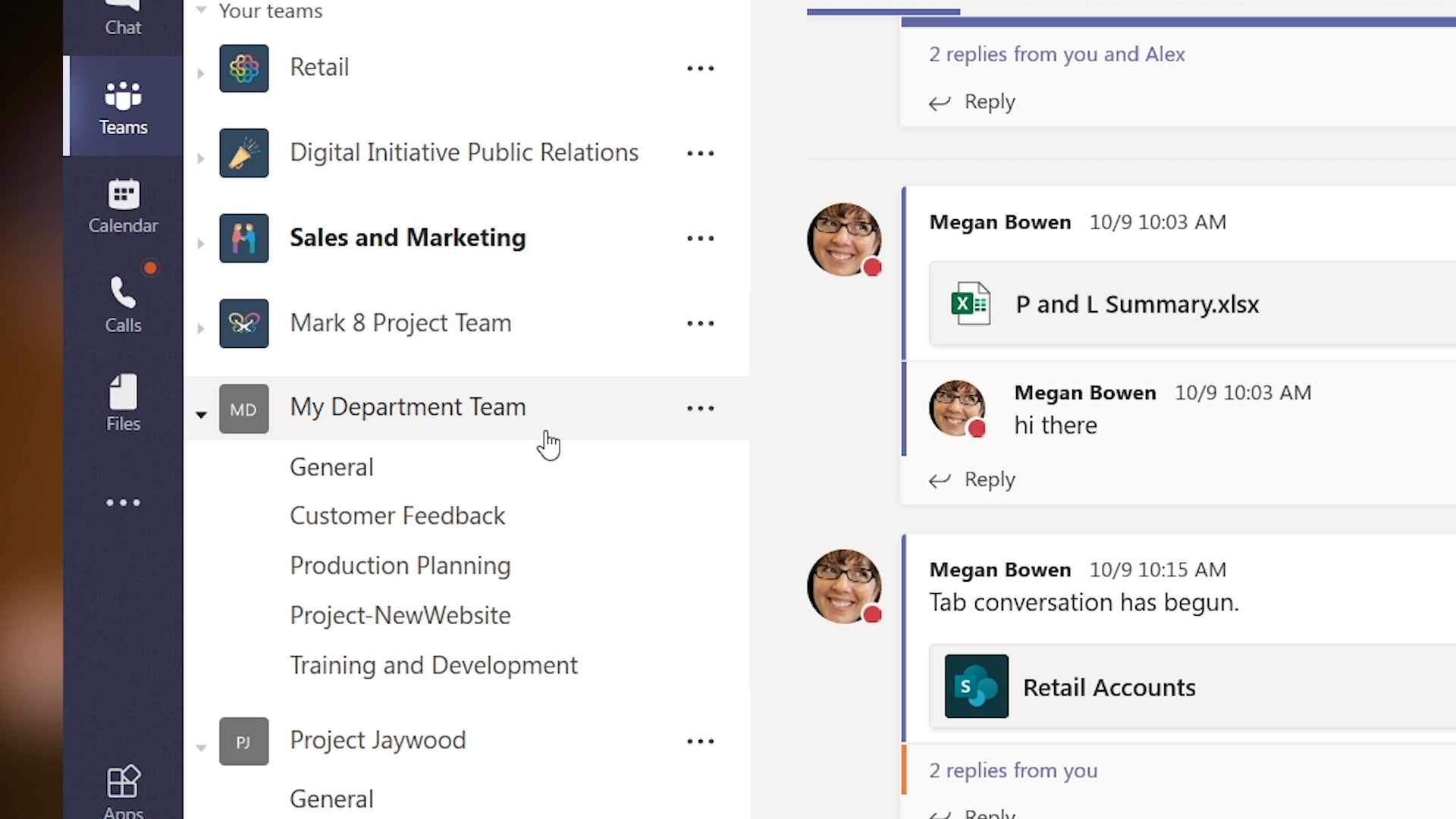 If your new Team was created to manage a new project, some potential channels could be created to plan important events, manage market research activities, track QA testing, and general administration.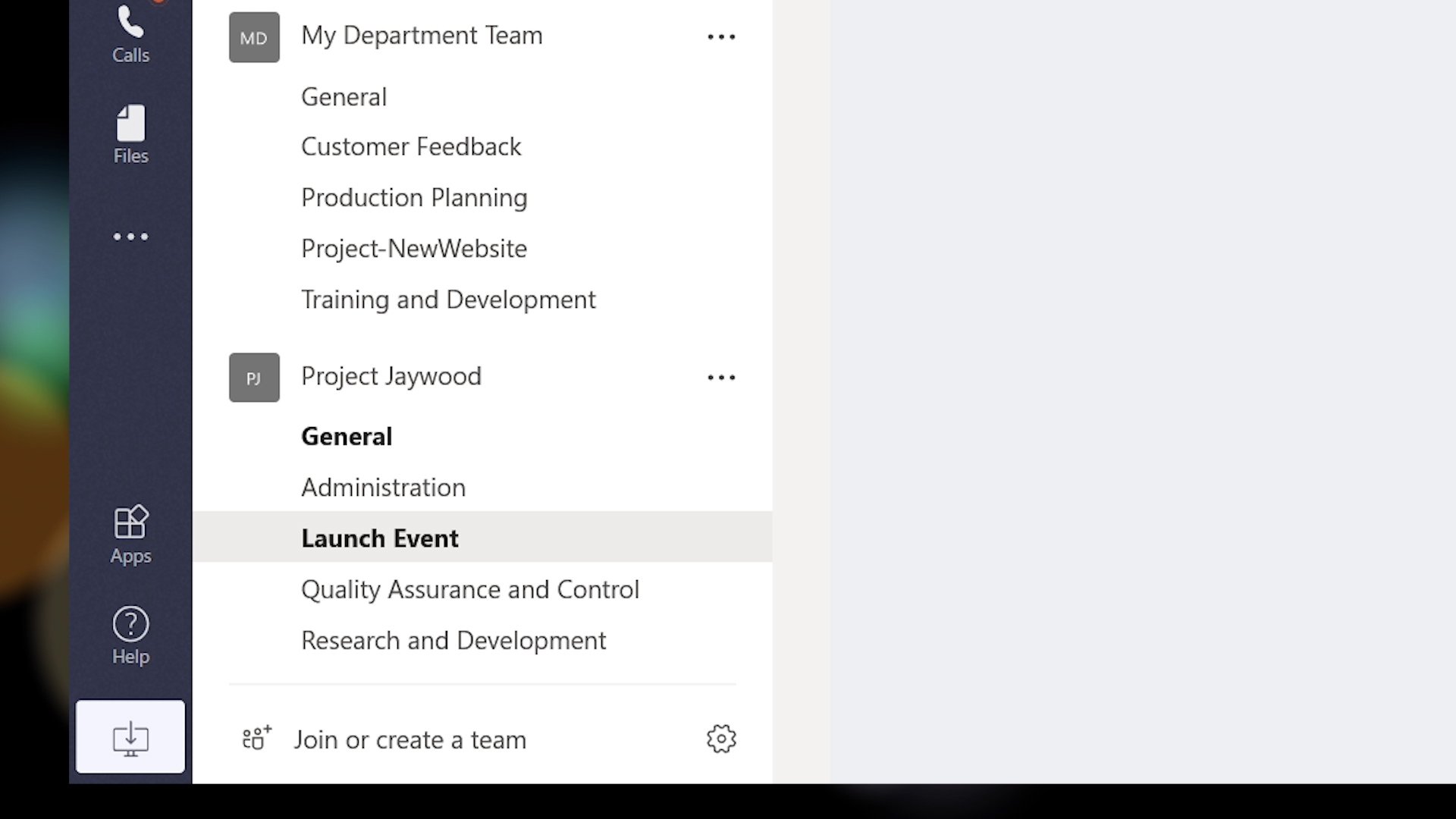 It's not just the channel name that you need to consider, but exactly how the channel should be used. You may find that this is a good opportunity to review and reflect how your department organizes itself. What files should be added here? What other apps, tools, websites and information does the team reference regularly that would be helpful to have in your channel?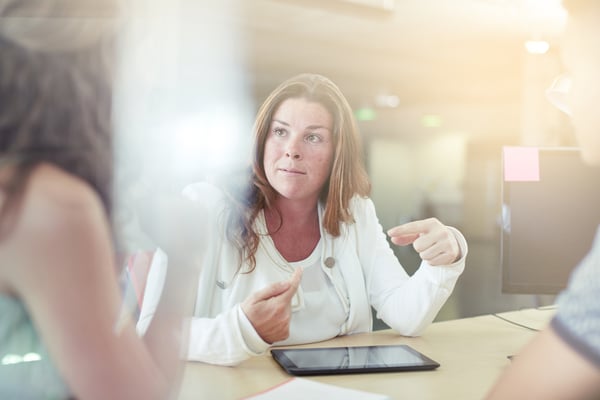 Talk to your colleagues and manager on how the channels should be used. Don't make assumptions based on how you've always done things. Trust me, you'll save yourself a lot of headache and frustration by taking the time to get this right the first time.
What's "In" a Channel?
Each new channel will automatically start with a "Conversations" tab, a "Files" tab and a "Wiki" tab. You can always add additional tabs for applications and collaborating on documents.
Did you know that that creating a new Team will also create a new SharePoint Team site? That's partially because Teams uses SharePoint to save a lot of it's metadata. Additionally, Microsoft Teams uses the SharePoint Document Library to host your files and folder.
When you create or upload files and folders to the Files tab, those files are actually being saved on the main Document Library on your Team SharePoint site. So even if you never visit the SharePoint site itself, you're still technically using it in the background.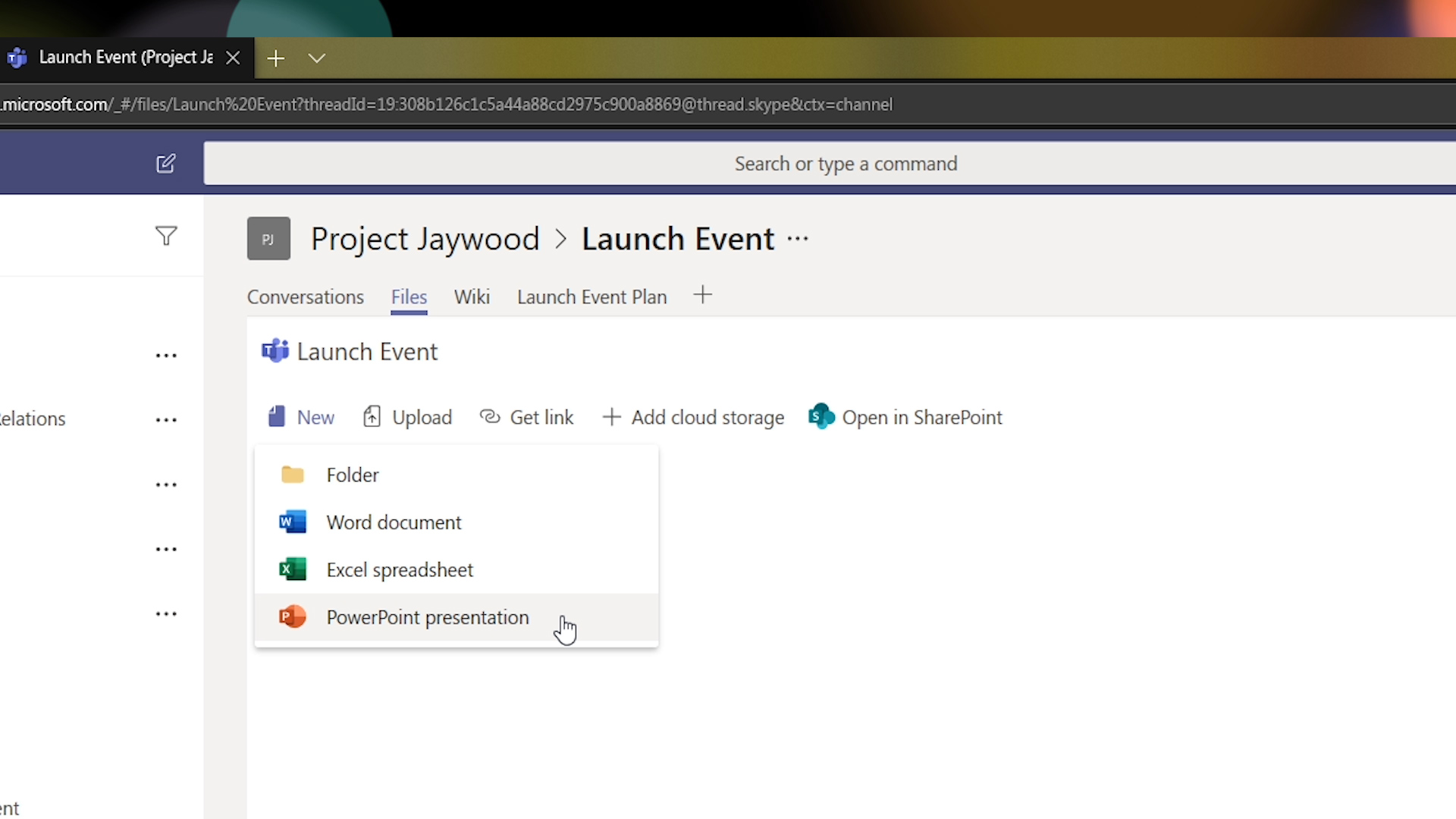 Each channel that you create will simultaneously create a new folder in your Document Library. Depending on the complexity of your group's work, these channel folders may be all you need to keep things organized.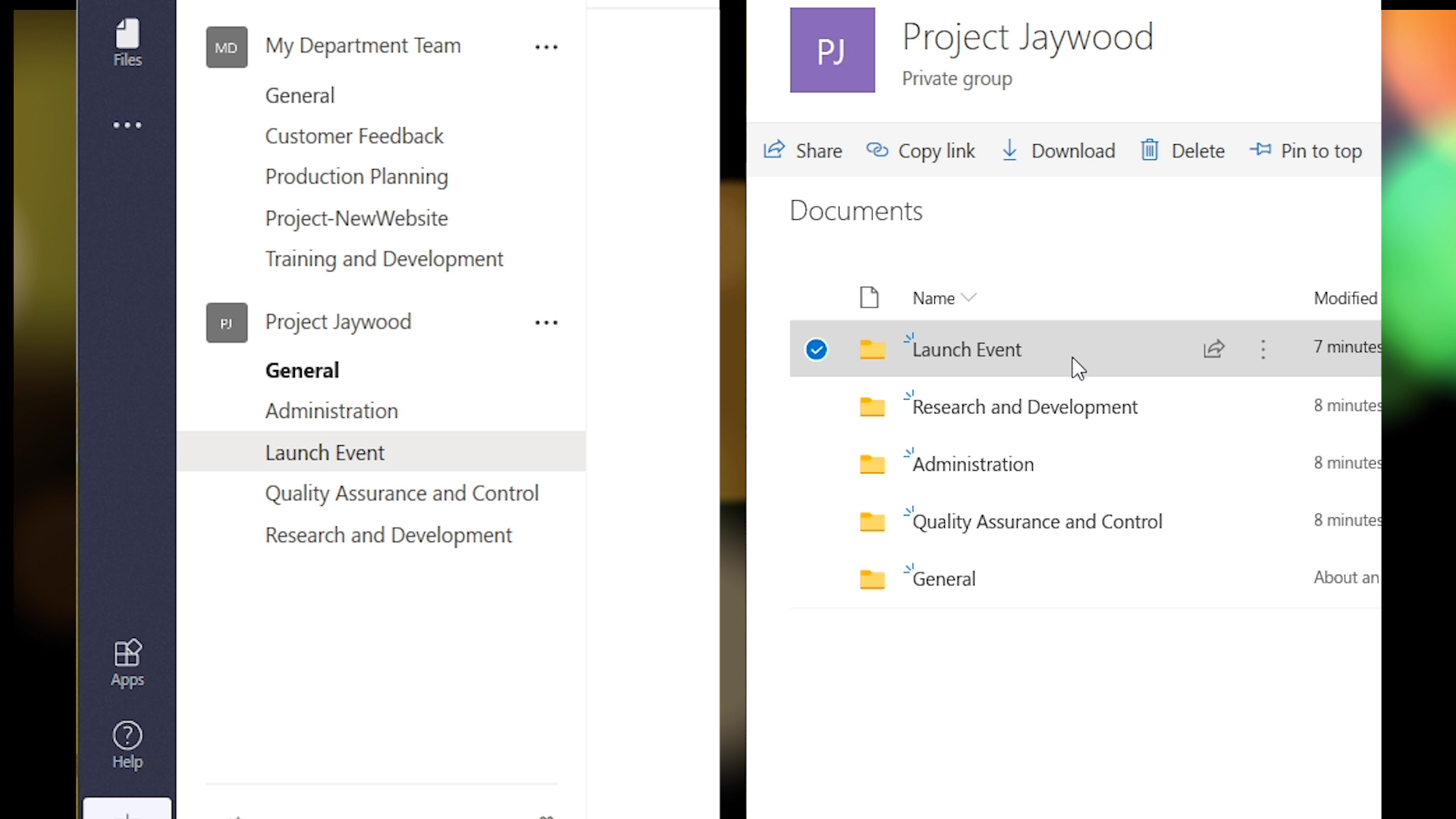 As shown in the above image, the channels created for "Project Jaywood" each have a dedicated folder in your SharePoint document library. You can access these folders through the "Files" tab in each Team channel.
The "Conversations" tab of your Team Channels may look like a chatroom, but it operates more like a social media page or a web forum. Each conversation created is treated as in individual thread that any team member can view and engage with.
One of my favorite parts about Team Conversations is that they can be used to replace a lot of your internal email discussions. The threaded structure of a Team Conversation keeps the discussion in context with a chronological flow. So even if you're late to the party, it's easy to get caught up.
There is a lot you can do within Team Conversations, such as posting announcements, sharing files, meetings, polls, having open discussions with your peers, and much more.
If your group is new to Teams, I recommend using tab conversations as a way to help teach new users how to collaborate on a document using Team Conversations.
The Wiki tab gives you a place to document things like training procedures, policies and whatever else you want. Remember that because it's a WIKI, anyone can edit entries here.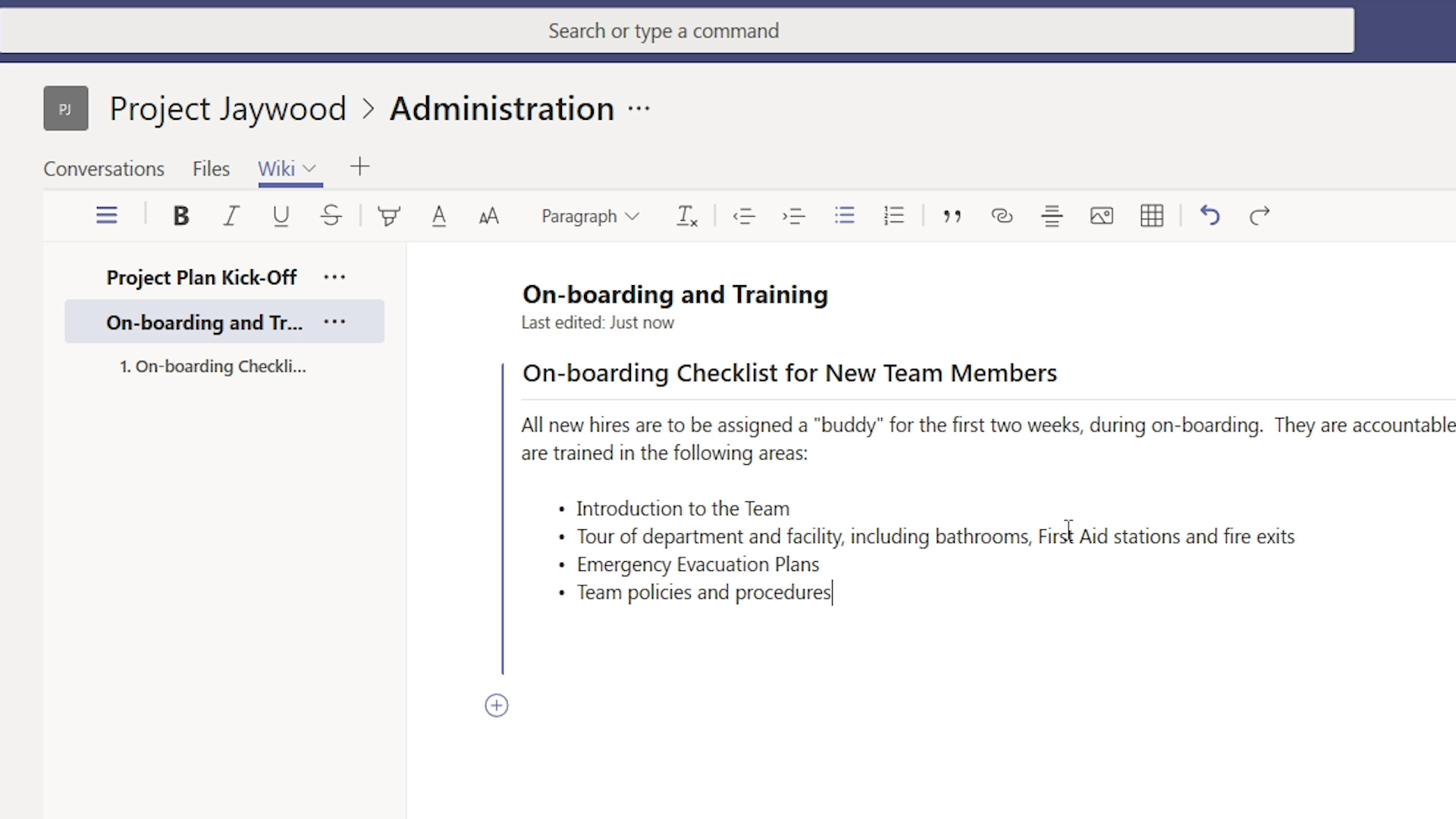 The Wiki personally isn't my favorite tool in Teams as I've found it tricky to format text at times. Anything you would use the Wiki for can easily be replaced with a Word document, OneNote or a PDF that is added as a tab. More often than not, I immediately remove the Wiki tab from new channels I've created.
Uploading Files to New Channels
Adding relevant files and folder to the appropriate channel is a critical step in the setup process for a new Team. Before you upload everything from your old network drive, take some time to review the data with your peers to ensure it all belongs in Teams.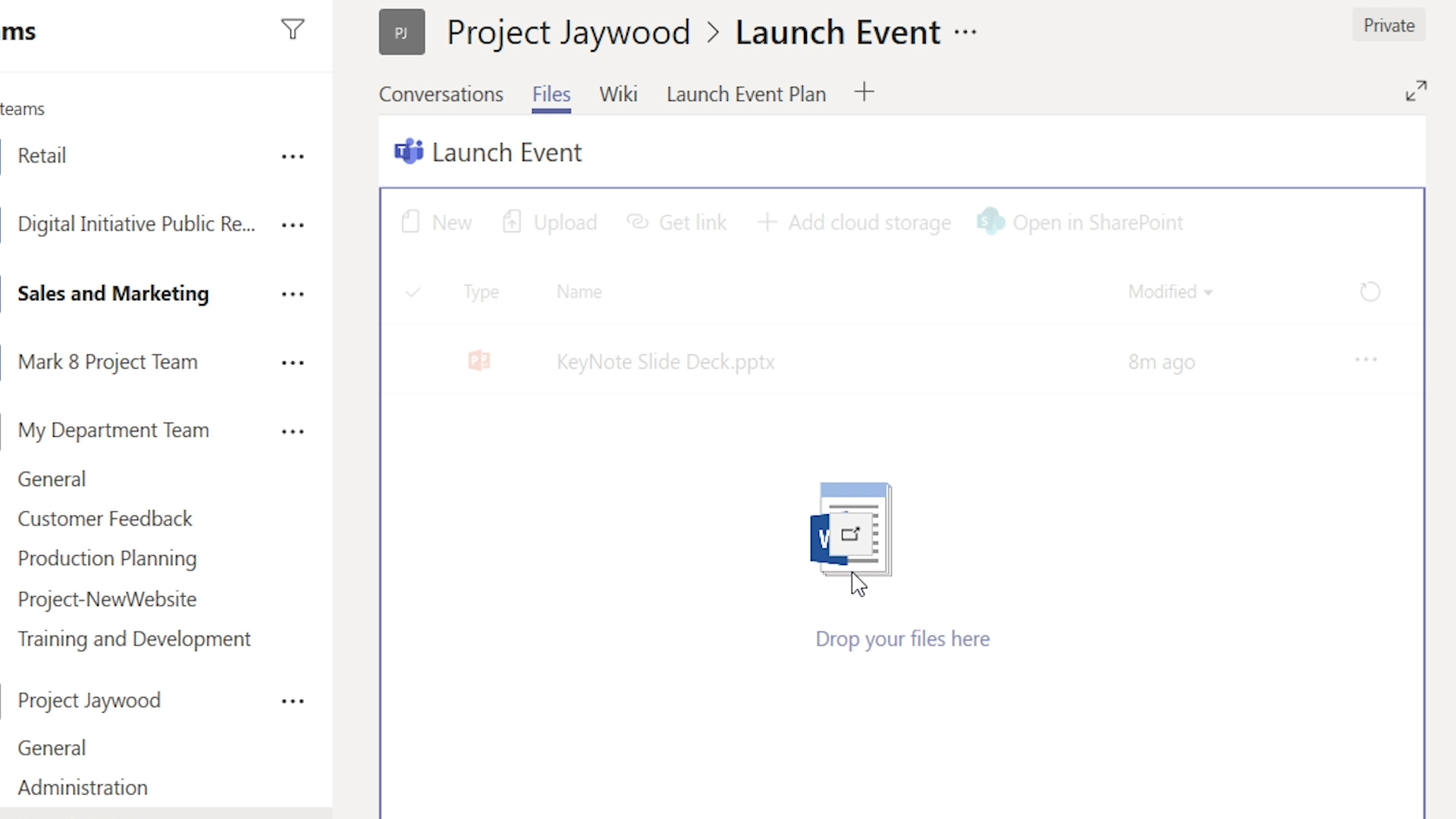 As mentioned earlier, anything added to your "Files" tab actually saved on your SharePoint site Document Library. This means that anything saved here is automatically shared with all members, allowing you to collaborate and edit the same documents at the same time.
Customizing Channels with Tabs
You can add tabs to your channels by clicking on the + button at the far-right of your tabs. This will open up the Teams marketplace where you can assign a new tab to show you an Office documents and apps, websites, a 3rd party apps you're subscribed to, and more.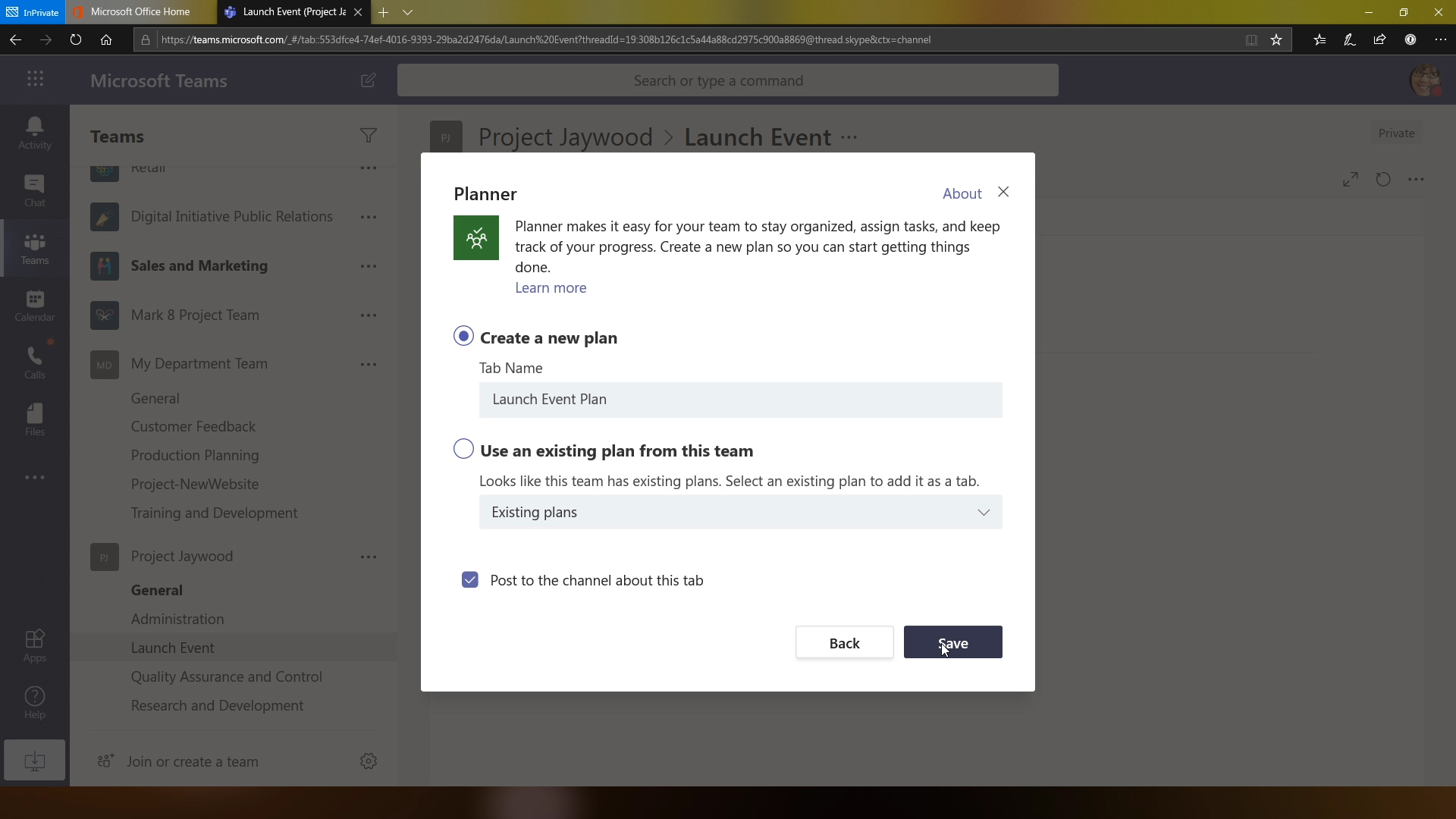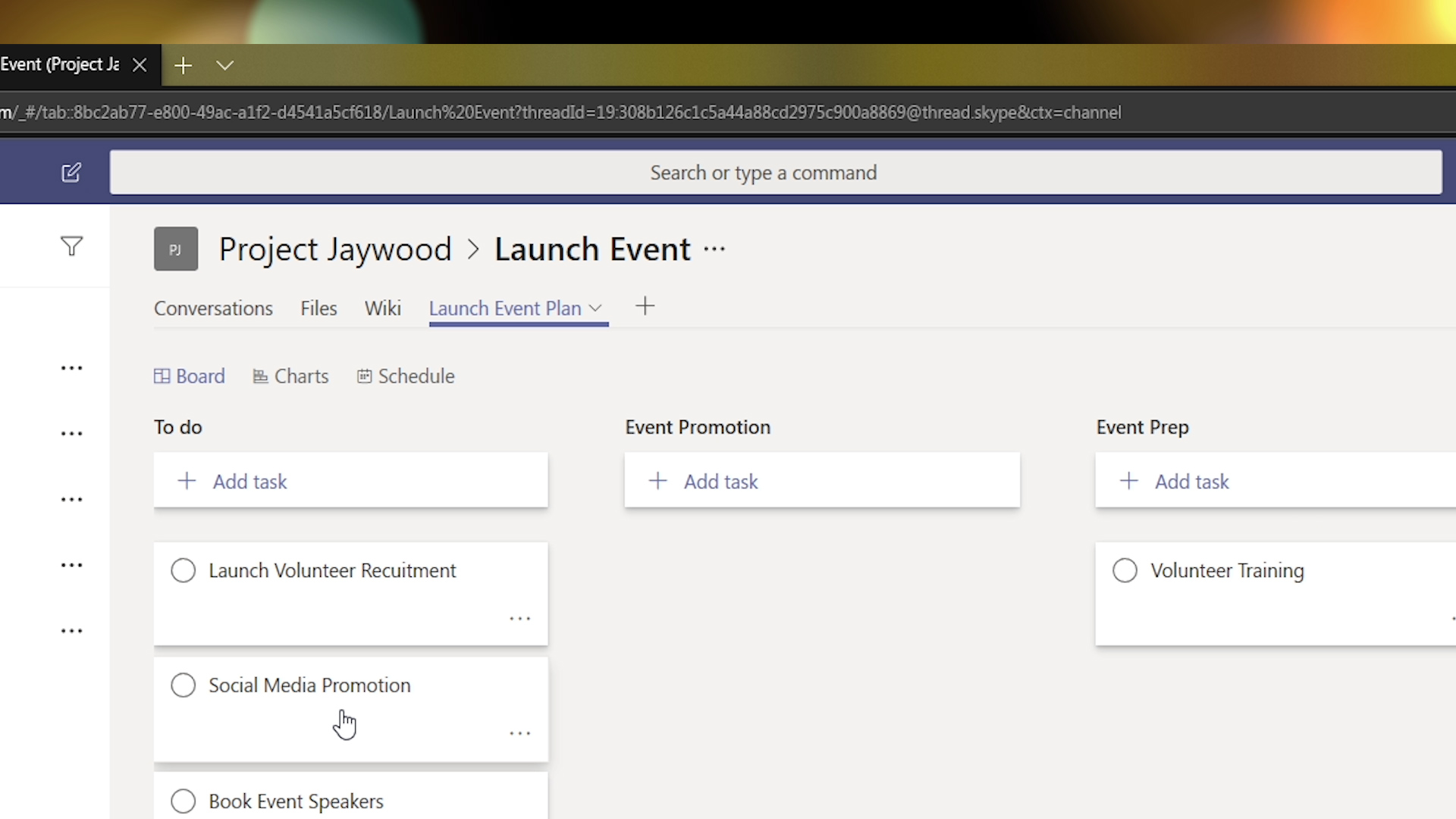 Adding tabs allows for a deep level of channel customization, allowing you to ensure each channel can properly serve it's purpose as a hub for work and collaboration.
Final Tips and Tricks with Channels
Channel Notifications allows you to opt-in for notifications anytime someone posts to the channel. This is helpful for channels that you don't visit often. Of course, if a channel gets too noisy, you can always opt-out.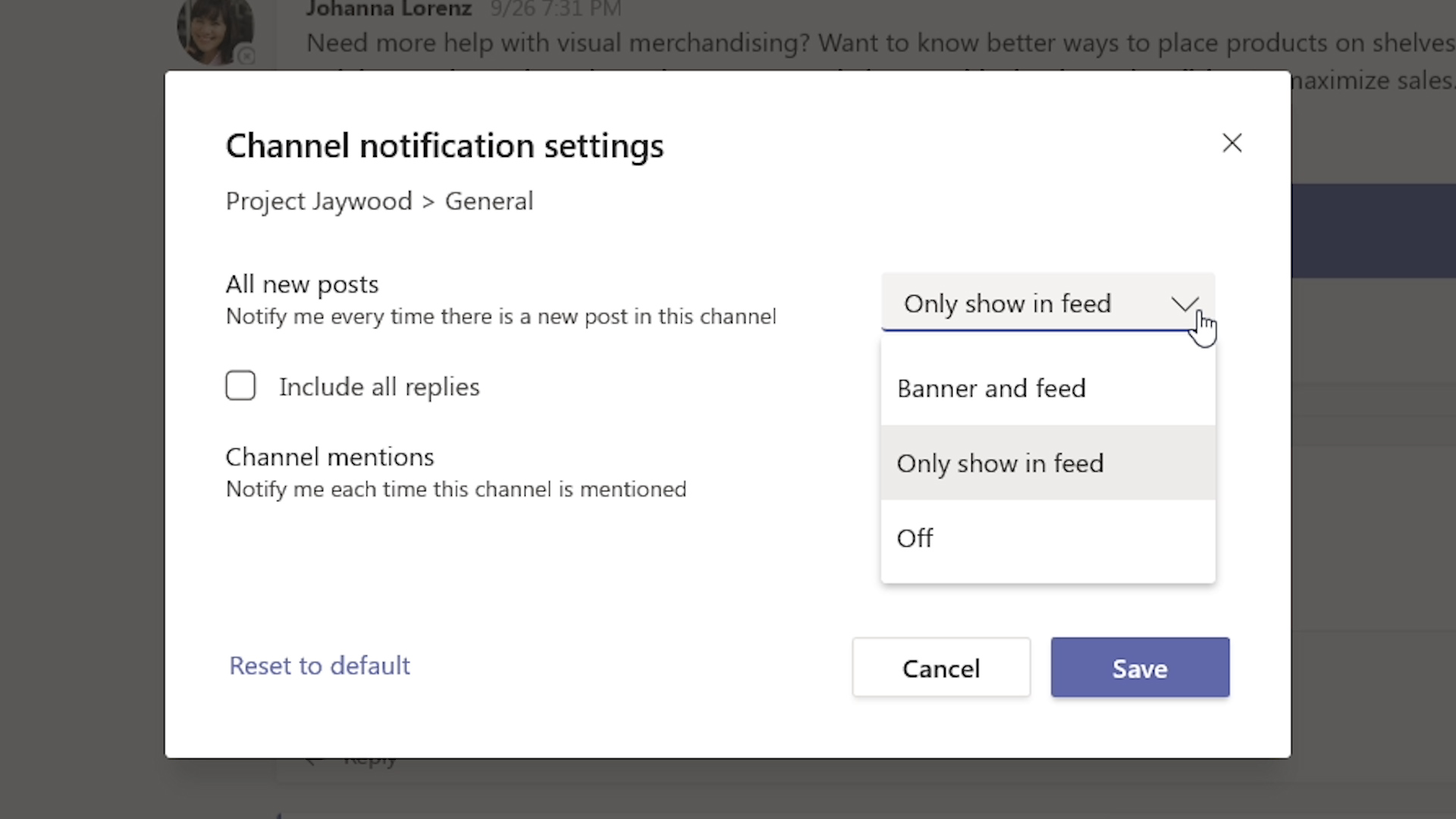 Channel Moderation allows you limit new posts to assigned moderators, as well as limit who (or what) can post to your channel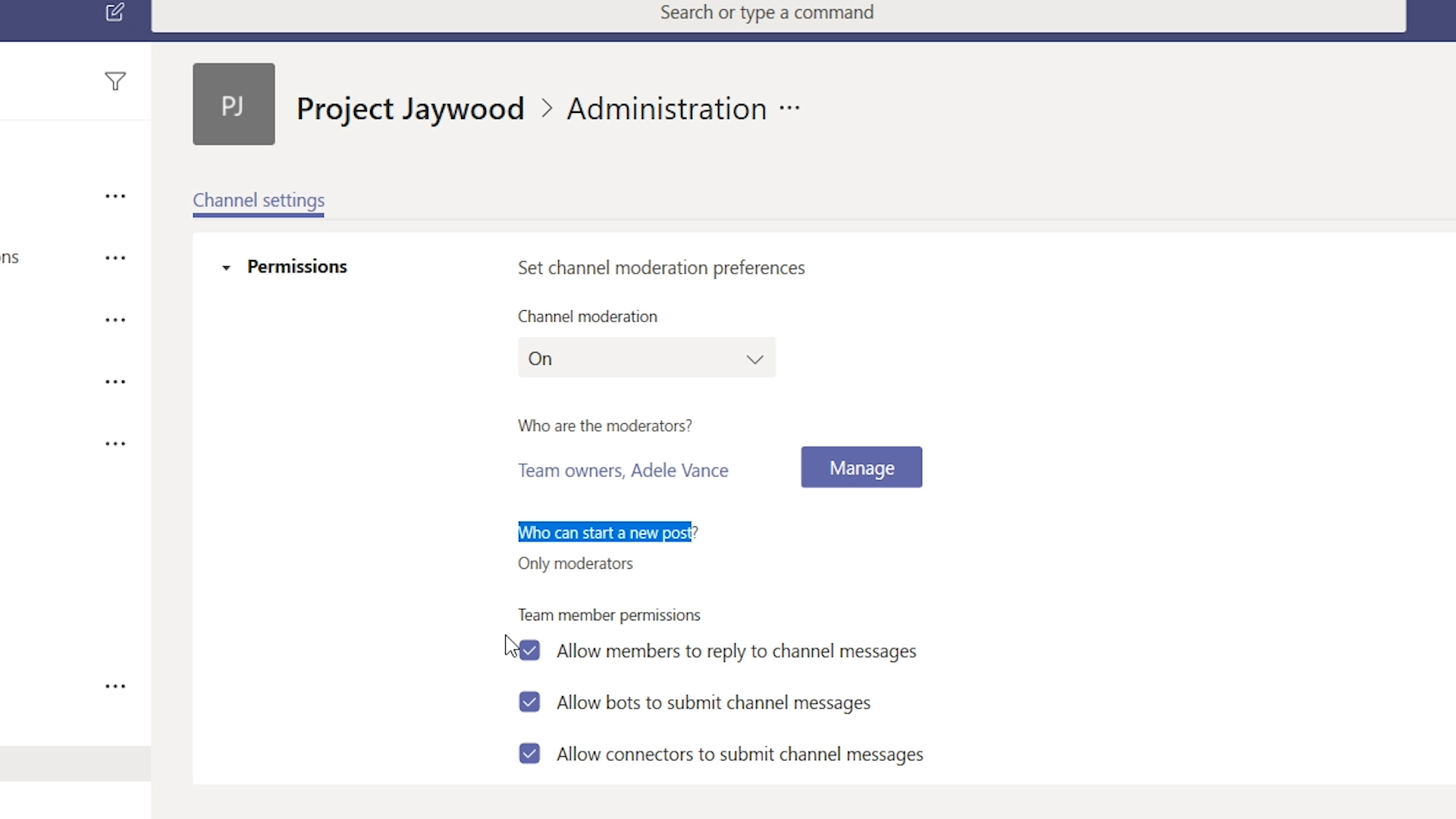 A Channel Email Address can allow you to send or forward emails to a channel. This is helpful to help get attention on important emails that the group needs to see, such as customer or client feedback.
Note that you cannot reply to an email from a Team channel.
Adding Connectors to a Channel to add some deeper customization to a channel. Connectors allow you to send and receive information from other web services like social media, RSS feeds, and much more.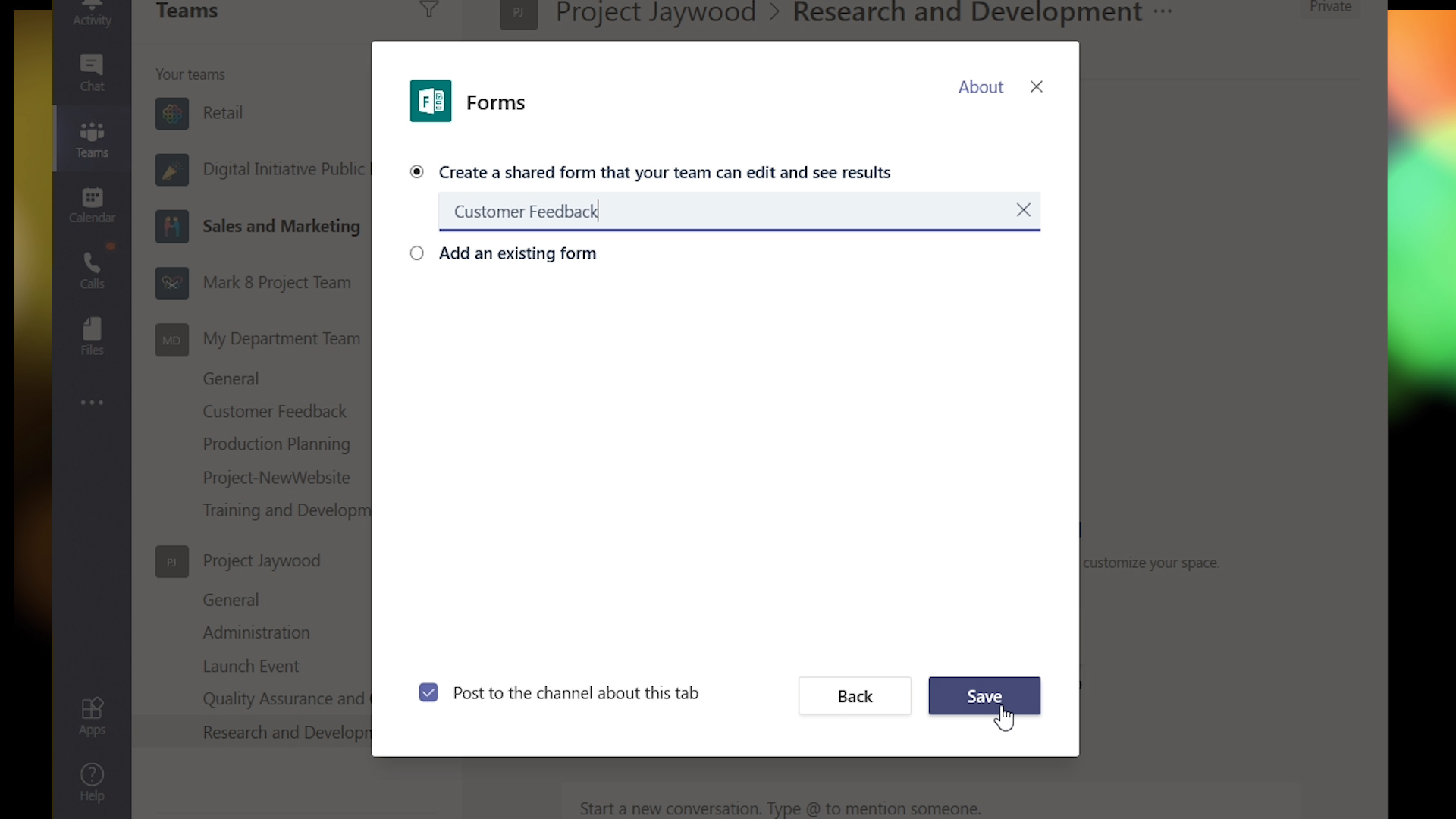 In closing...
Team Channels is the meat & potatoes of your Microsoft teams experience. Now that you've seen how they're created and how they can be customized with tabs and connectors, it should be clear that each channel should be given some careful thought and consideration before you create them.
In my own opinion, having a consistent approach to Channel design across your organization may help improve user adoption for new hires and veterans alike. However, that's a discussion for another day.
Thanks for reading!