In the 3rd entry on my "Navigating Microsoft Planner" series, we'll look at it's integration in Microsoft Teams. Possibly the best way to experience Planner in Office 365.
First things first, if you're looking for an introduction to Microsoft Planner, I recommend starting with "Navigating Microsoft Planner", and then "Navigating Microsoft Planner Tasks". We also have these webinars on our YouTube channel if you're looking for more.
This post is simply going to cover the user interface for the Planner app in Microsoft Teams, address the weird naming situation, and cover some of the features unique to this version.
Planner isn't just Planner in Microsoft Teams
The Planner app in Microsoft Teams has gotten a major update to include tasks from Microsoft To Do. To highlight this change, Microsoft is renaming the Planner app to "Tasks" in a couple of stages to help users adjust.

source: Microsoft
This change only applies to the app in Teams at this time. Planner and To Do will continue to exist as separate Office 365 apps outside of Microsoft Teams.
Now that we've got that out of the way, let's look at a Planner board in a Microsoft Team channel.
Planner in Team Channels
Planner can be added to any standard channel in Microsoft Teams. At the time of writing this, Planner is not available for private channels yet.
When adding a Planner board as a channel tab, you are given the option of creating a board from scratch, or adding an existing plan.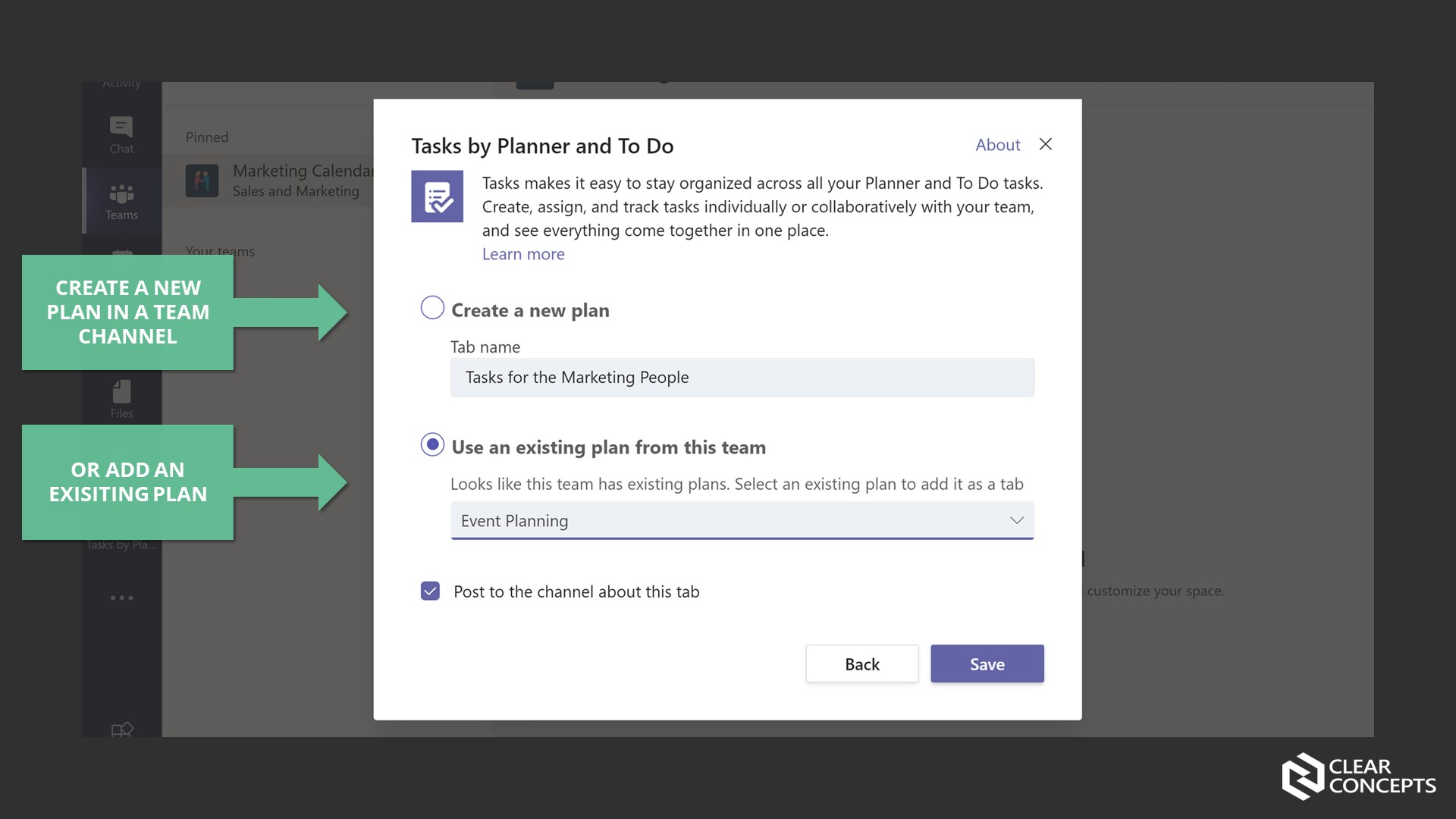 When it comes to making new Planner boards, this is my preferred approach because there's no risk of accidently creating a new Microsoft 365 Group. By creating your boards in a Team channel, you've already determined your group and members.
After you've added your Planner board, you can get to work.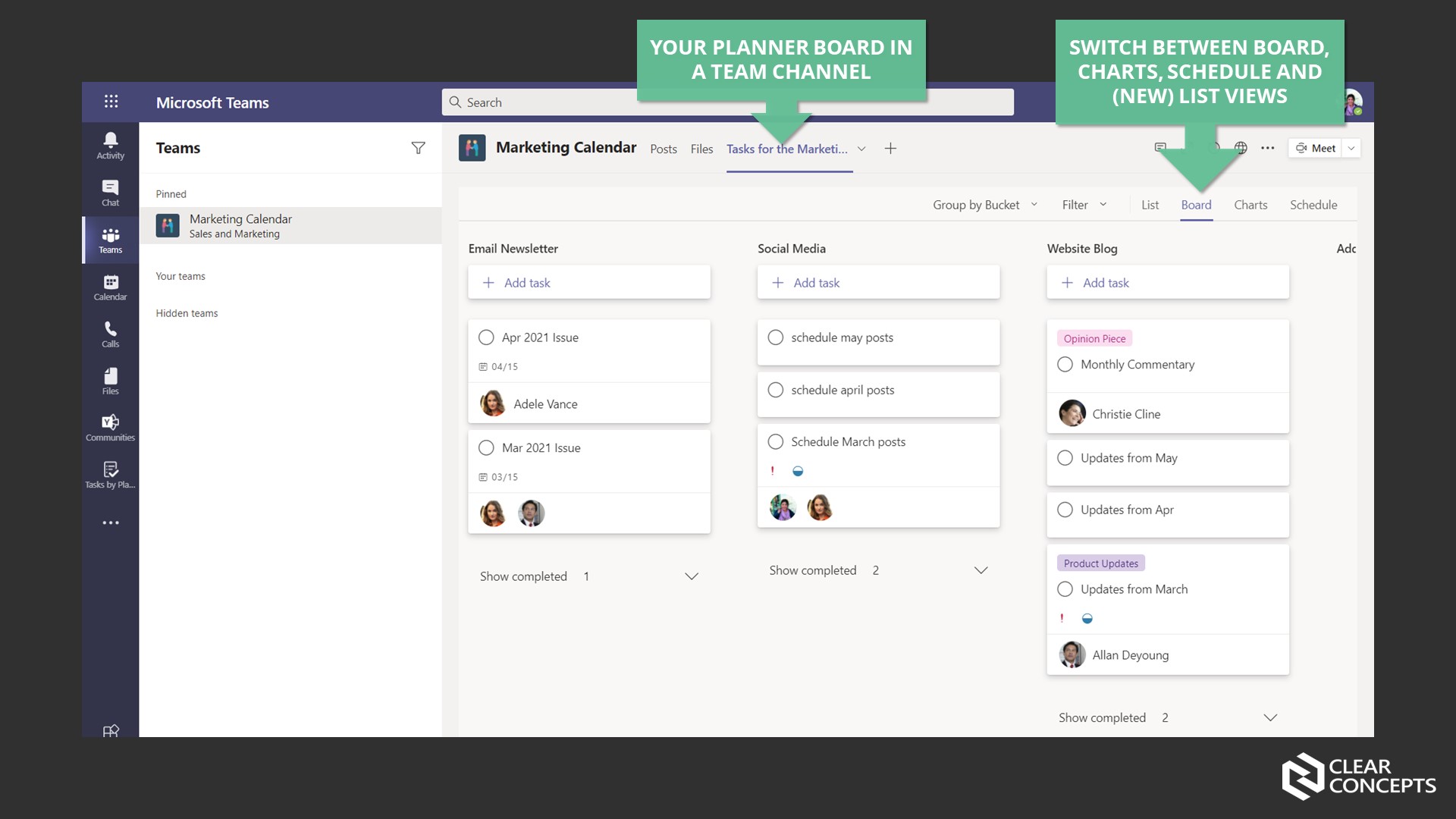 The user experience in Teams is finally (nearly) on-par with the Planner Web app, but there are some differences. For example, Smart Backgrounds are not available when using Planner in Teams, but the new Lists view is.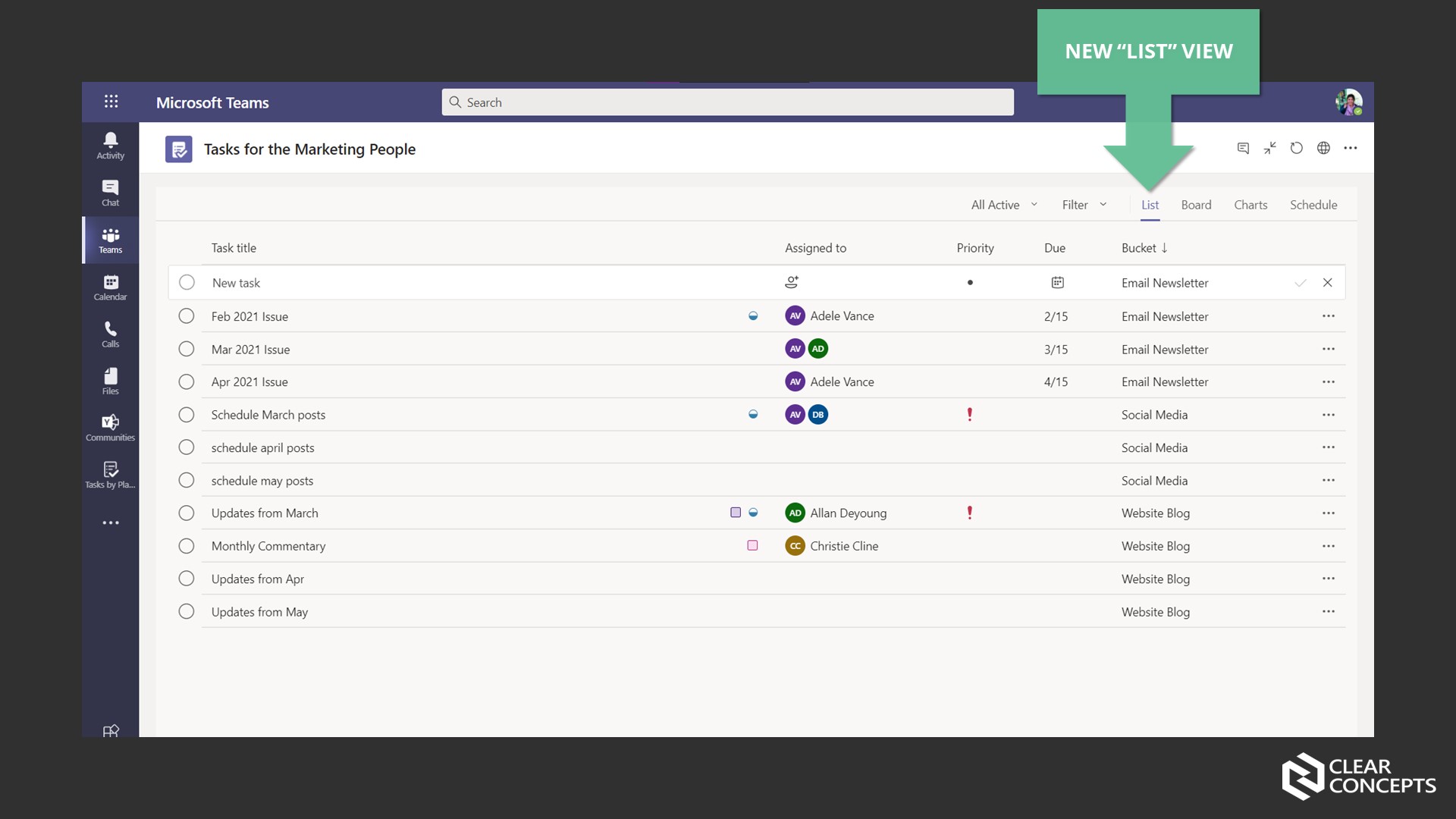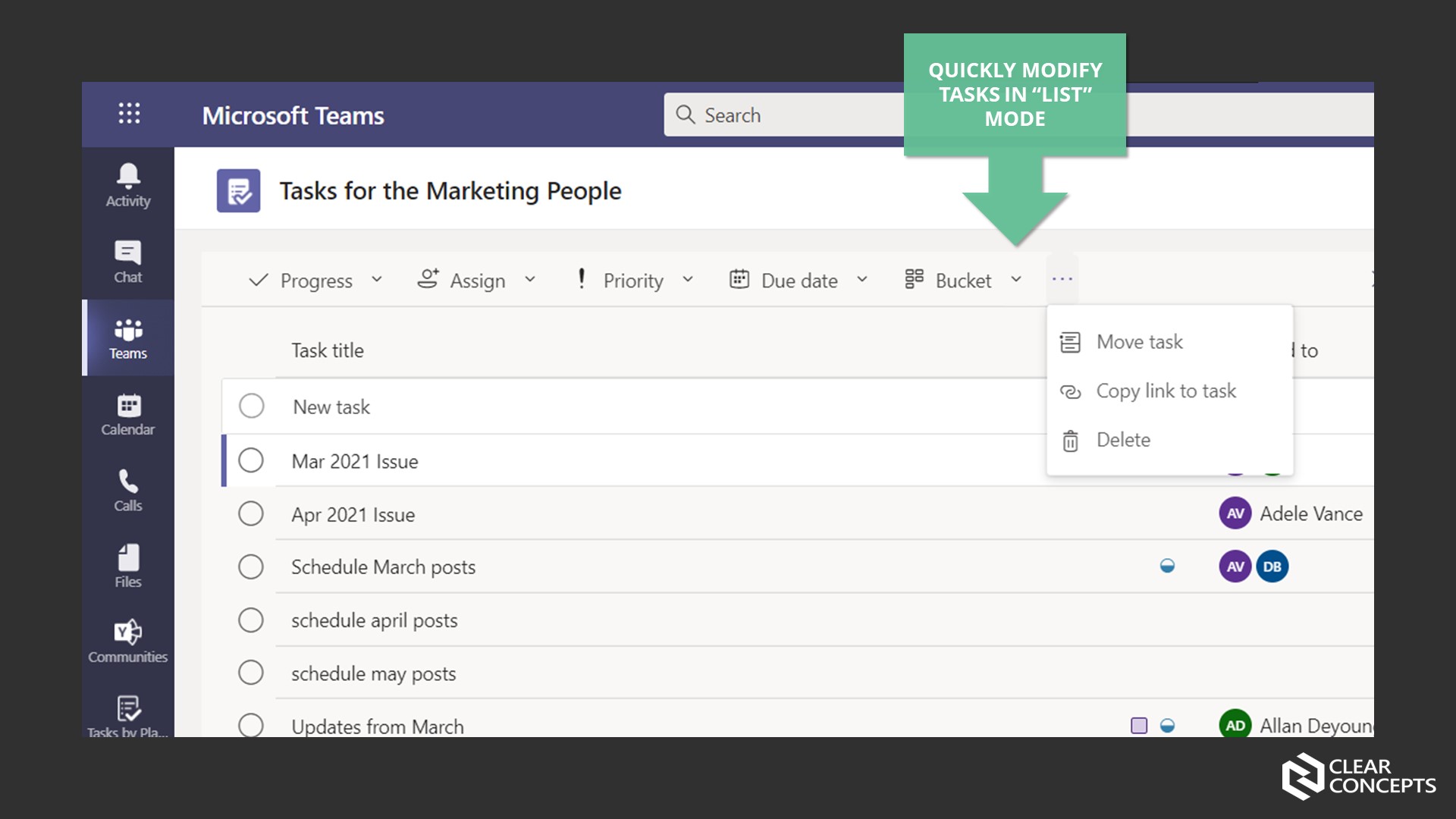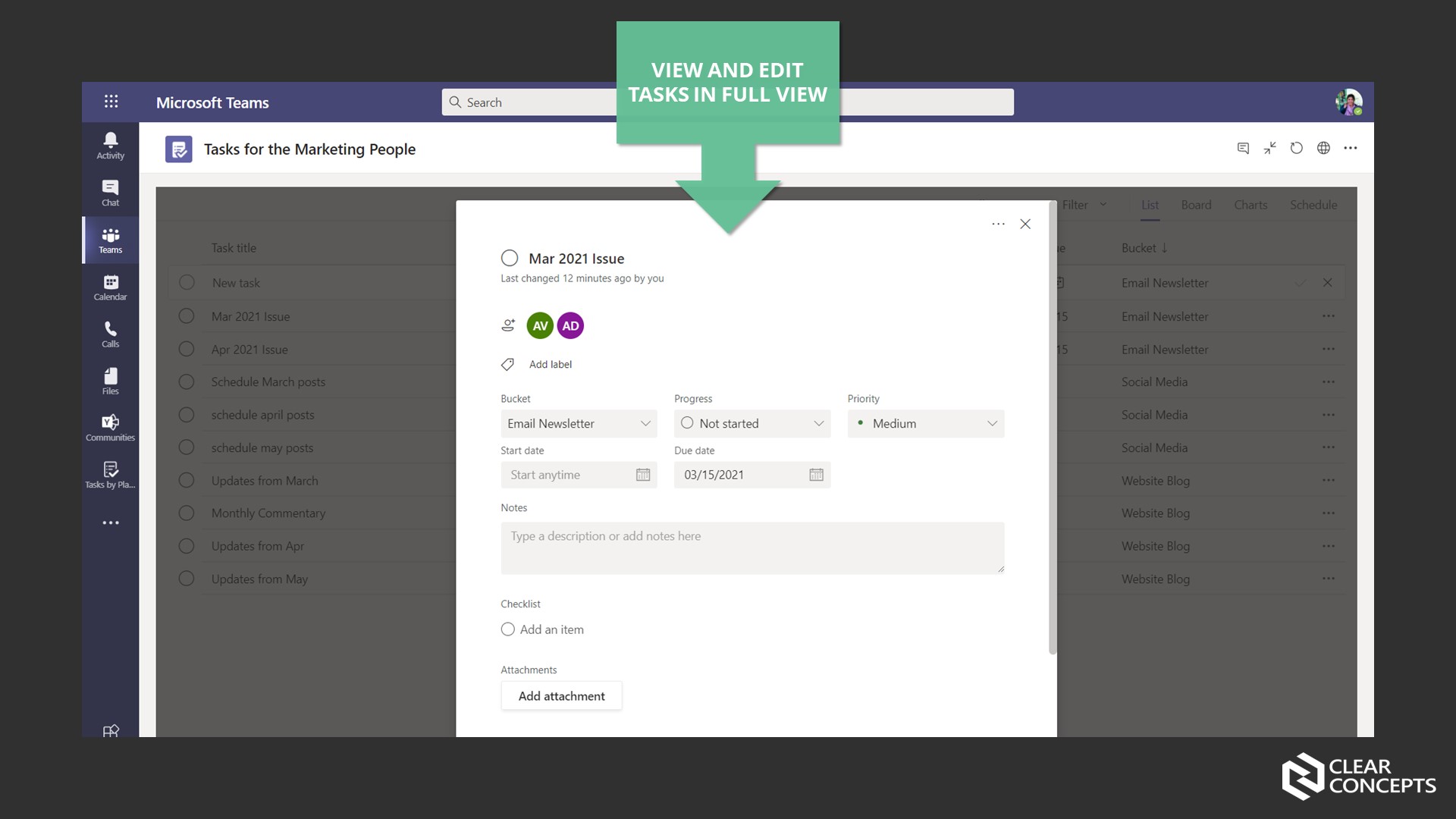 Beyond "List" view and Smart backgrounds, there aren't many other differences when using Planner in a Team channel. However, I cannot overlook my favorite part about having Planner in Teams: Tab conversations.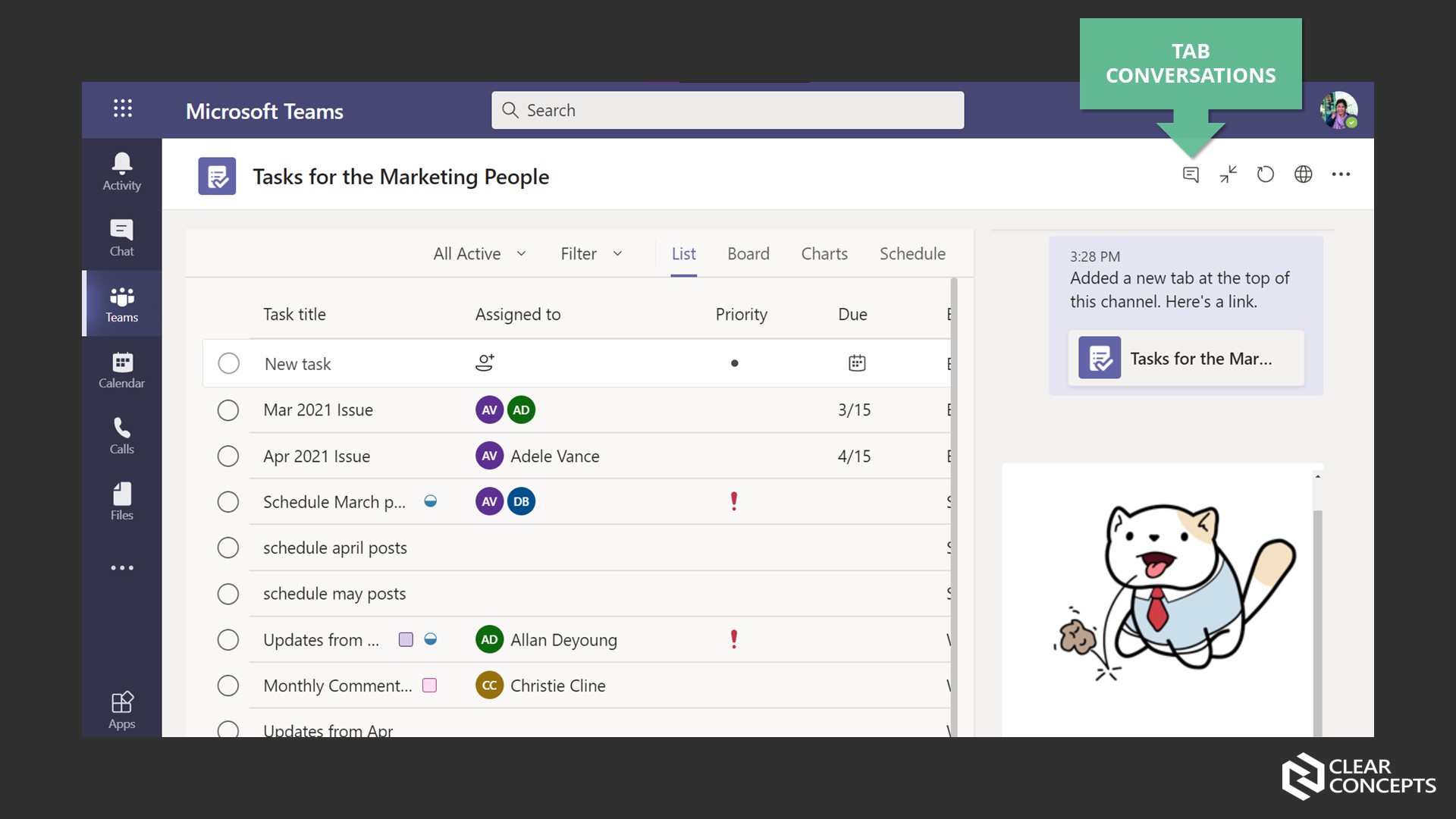 You can leverage tab conversations to share updates and ask questions related to the specific plan. For example, you can notify your team when new tasks have been added or when priorities have shifted and action needs to be taken immediately.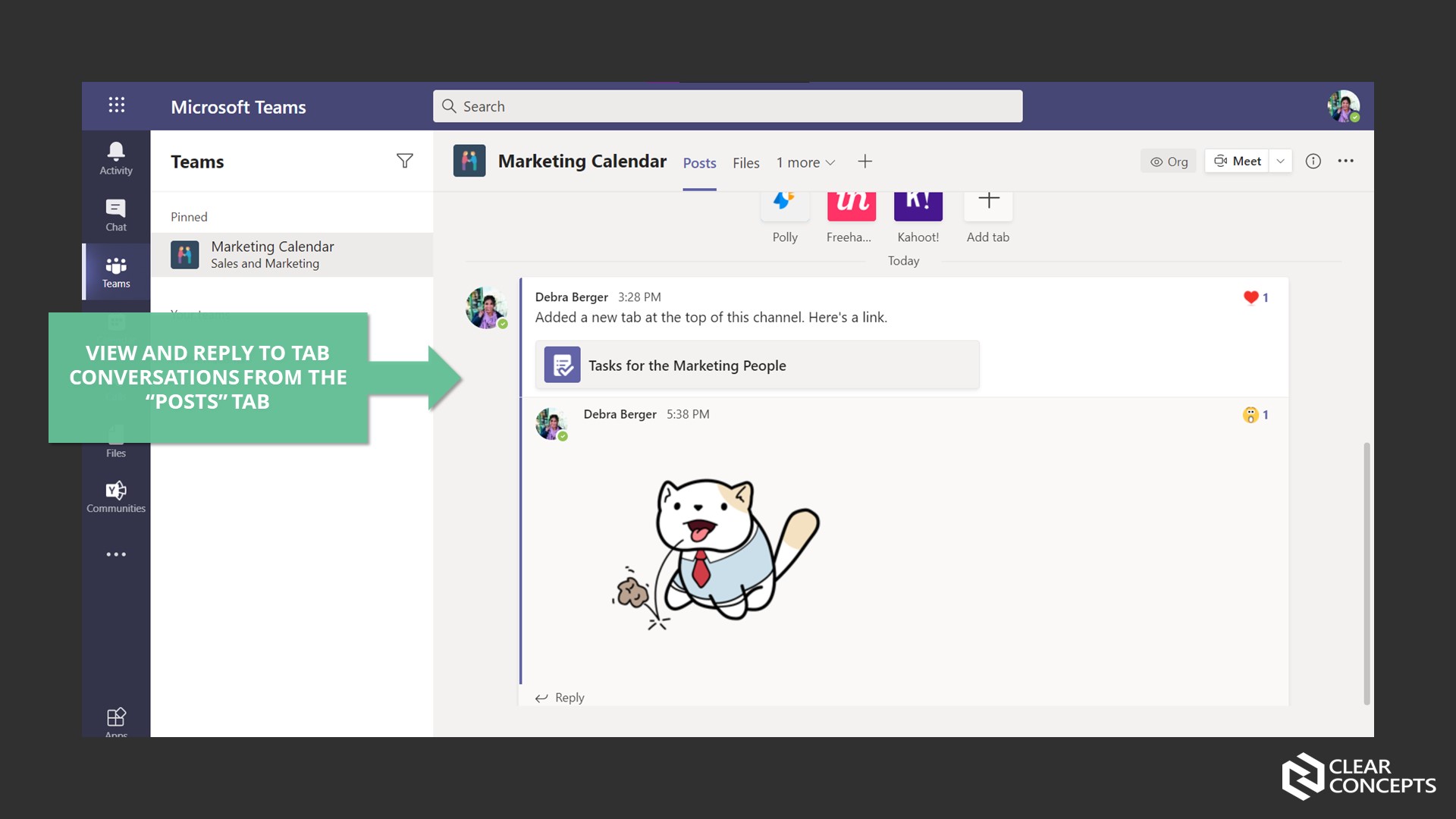 If you need more real estate to view your boards, click the "Expand tab" button to hide the "Teams" column.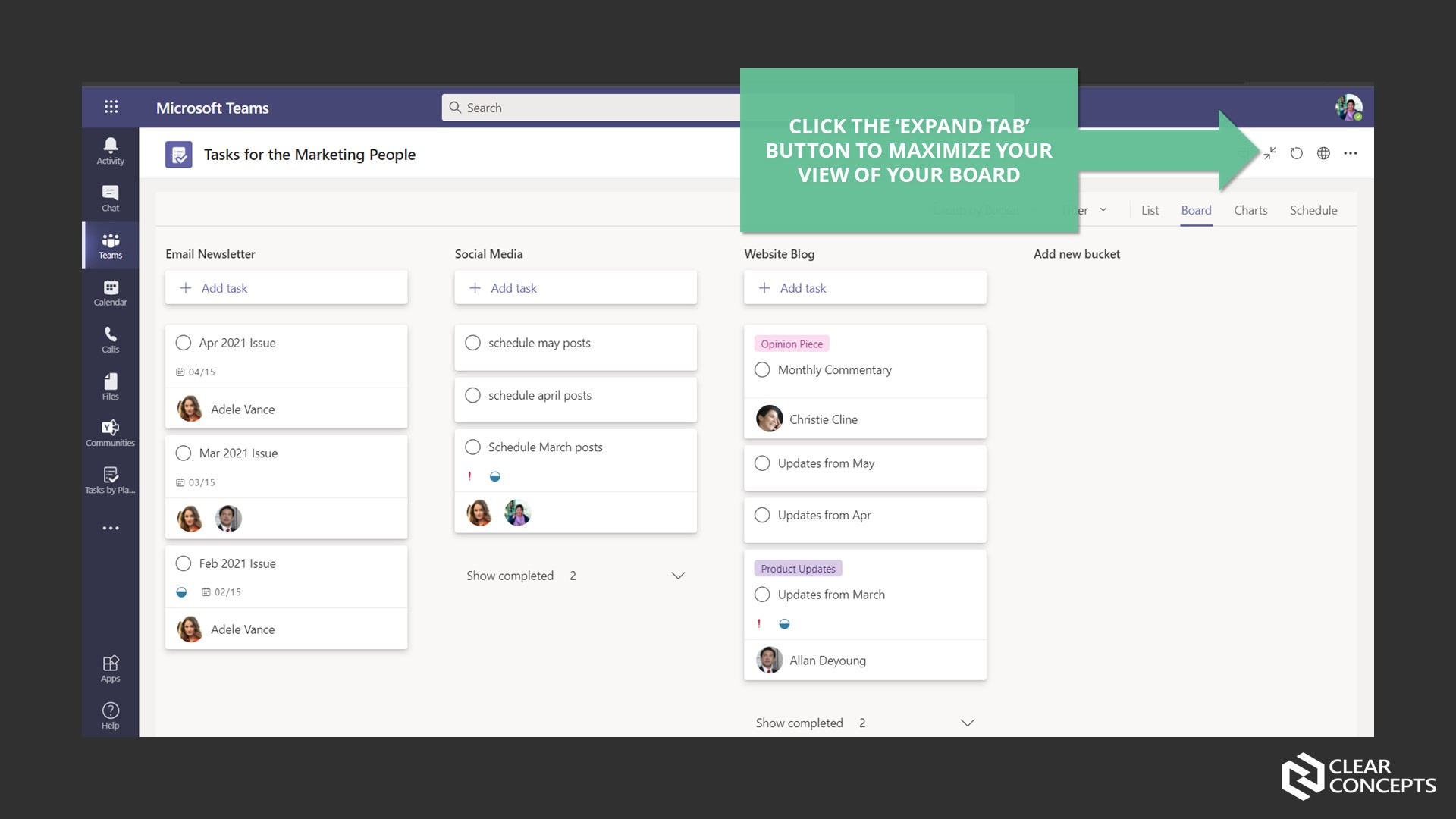 Viewing all Planner Boards from the Navigation Menu
Lastly, you can add the "Tasks" app to the navigation menu in Teams. This allows you to view Planner boards across all of your groups in one place.
You can also view your tasks from Microsoft To Do here, but that's a discussion for another day.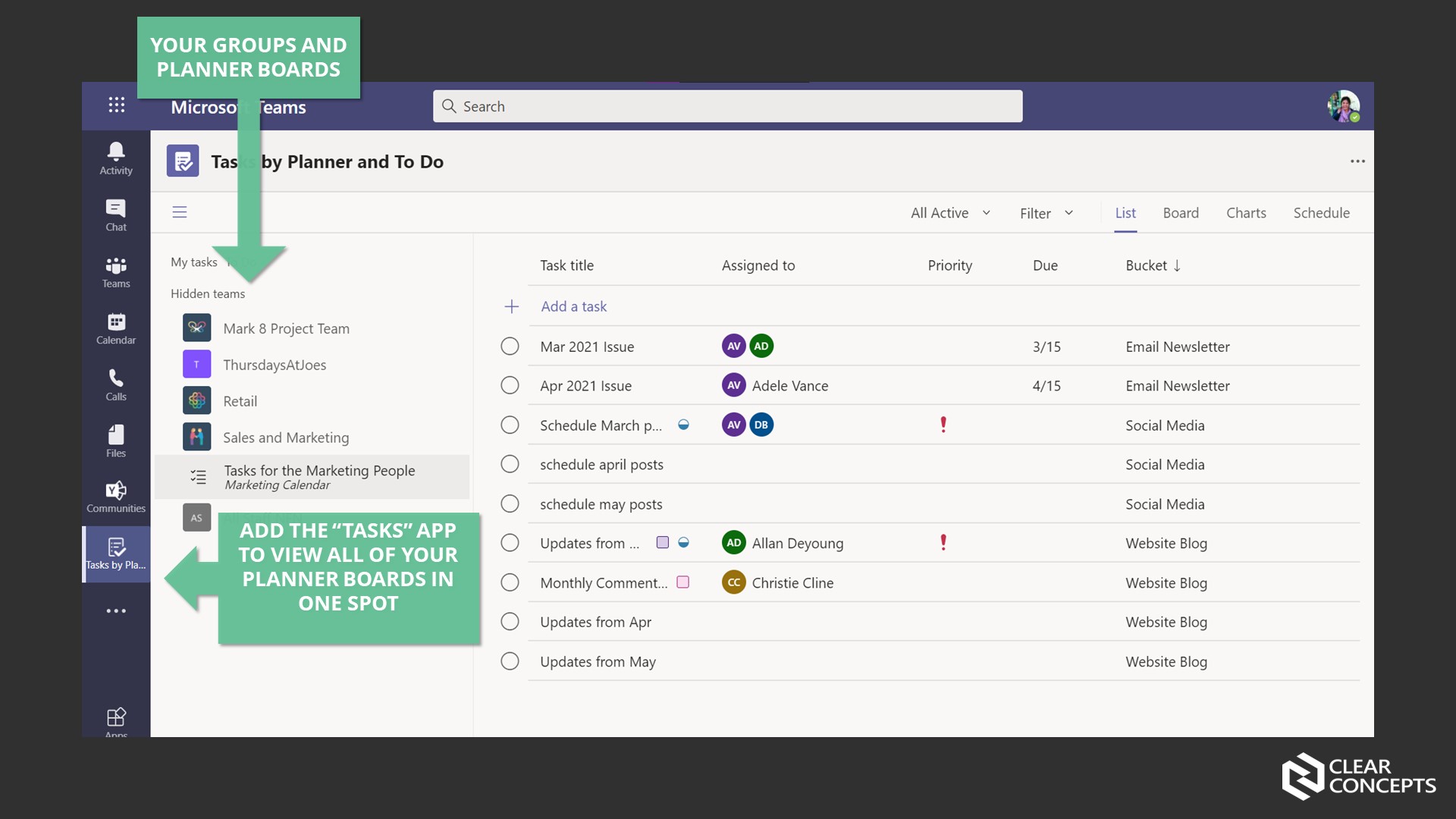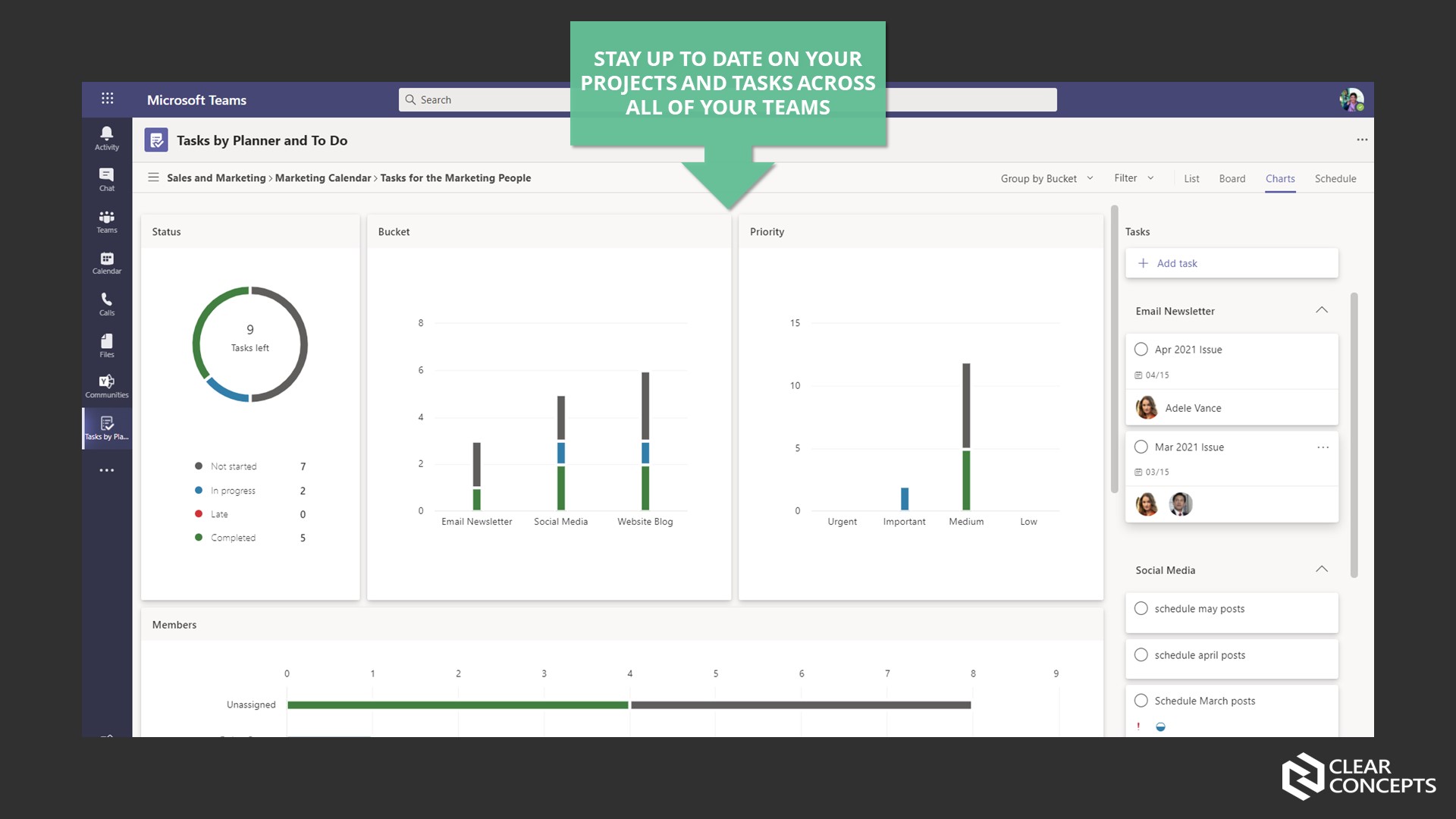 Viewing your Planner boards and tasks is essentially identical to what you get in Team channels. The only differences being that you don't have access to the tab conversations as those are only available from within the team channel.
Final Thoughts
In my own opinion, Microsoft Planner is at it's very best within Microsoft Teams. Linking boards to team channels gives them additional context for new team members, tab conversations gives you a place to share updates and ask questions related to a project, and the user experience is equal (if not better) than the web app.
What do you think about Planner in Microsoft Teams? Let us know in the comments below!