How much do Facebook Apps know about you?
Privacy has always been a concern when having a social media profile. Major platforms generally require your Full name, Email Address, and Date of birth before you can sign up for an account. That information will help verify your identity and ensure you are a real person and not a bot account.
Let's talk about Facebook, the largest social media site most people use on a regular basis. People use Facebook to connect with friends and families but there are also third party apps people can use while on Facebook. These can be mobile games, dating apps, streaming services, 9gag, cat videos, and etc..
So, what happens if your data is shared with other parties although you barely used their services? It could affect you in ways you may never notice. You might see more advertisements about a certain product or profile pages of people you might share interests with. You might see more cat videos or stories about a celebrity or special interest group. This is because some apps targets audience based on user's geographical location or based on the posts people previously liked. (Thumbs Up!). Other people you share your Internet connection with might also see the same advertisements because of geo-targeting.
I recently liked a recipe on Facebook, and soon after I keep seeing that Instant Pot cooker on my news feed. Long story short, I ended up buying the Instant Pot since the ad said it was on sale! I didn't regret it since the meals I cook turned out great but the advertisement definitely influenced my decision to purchase.
Lots of interesting things can show up because social media analyzes your online behavior. The more time you spend on it, the more time social media services can observe your activity using artificial intelligence (A.I.).
Recently, Facebook has been dealing with a scandal regarding data mishandling that allowed a data firm to access the data of 87 million users without consent. Product marketing is really easy with Facebook, but with the accessibility comes the danger of seeing lots of fake news or misleading advertisements.
Facebook has been increasing user privacy since the news broke out. One recent update is that they now allow users to bulk remove third party apps that have access to their personal information. I tested the update myself and was surprised about some old and rarely used apps that has access to my data.
Steps to access the third party apps from a web browser or the Facebook App
Please remember that you may lose all your games saves or app data if you totally remove them. Proceed with caution! You don't want to start over in Candy Crush! I suggest that your carefully check those apps that you are not familiar with or those that you had stopped using already.
From the mobile App
Click the icon that looks like three bars.

then scroll down to Settings.
Tap Account settings then scroll down to Apps.
Tap the Logged in with Facebook option.
From a web browser
Click down arrow at the top right.

in the top right of Facebook and select Settings.
Click Apps in the left menu.
How to remove Facebook Third Party Apps
The screenshot below is from the Apps I have on my own Facebook account.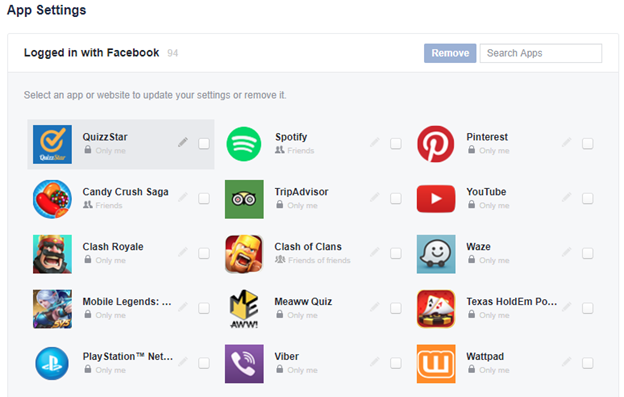 You can bulk remove all those apps by checking each one of them then clicking the Remove button.
Click the pencil icon beside the App to see how much information the App knows about you.
I had this App called "Scratch and Win". I probably used this once, a long time ago. It says that it has information about my friends list, status updates, and some public info. What bothered me was this app also has access about my date of birth. They never sent me cake on my birthday so I guess there is really no need for them to know that.
Most apps from popular services like Netflix and YouTube only require your basic information.
If you prefer not to remove the app, you can un-check which information you don't want to be shared by clicking the Check icon beside it. This should leave your basic information available and let you continue to use the app.
---
Some will argue that you should just delete their social media accounts altogether. Truly, there are pros and cons about having a social media profile. But in the end, people can decide if they keep it or not. We all use social media differently.
Just don't be the person who shares his boarding pass or use it to rant about their jobs. If you have a social media account, control the information you share and avoid incorporating your social media profile with those sketchy apps. Remember to read the app permissions before you proceed.
The moment you sign up, you need to be aware of the risks involved in sharing your personal information. This detail is usually buried in the fine print so take the time to read it.
Stay smart online!
Useful links:
https://www.facebook.com/help/262314300536014/
https://www.staysmartonline.gov.au/news/five-things-you-should-never-share-social-media
https://www.realsimple.com/work-life/work-life-etiquette/manners/social-media-etiquette