Manitoba's only technology company to make The PROFIT 500 for the third straight year
Winnipeg, Manitoba - September 15, 2016 Canadian Business and PROFIT today ranked Clear Concepts No. 10 in Manitoba and No. 398 Nationally on the 28th annual PROFIT 500, the definitive ranking of Canada's Fastest-Growing Companies. Published in the October issue of Canadian Business and at PROFITguide.com, the PROFIT 500 ranks Canadian businesses by their five-year revenue growth.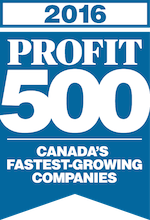 Clear Concepts made the 2016 PROFIT 500 list with five-year revenue growth of 117%.
"Companies become a part of the PROFIT 500 through innovative thinking, smart strategy and sheer grit," says James Cowan, Editor-in-chief of PROFIT and Canadian Business. "These firms demonstrate what Canadian entrepreneurs can achieve, both at home and across the globe."
"Clear Concepts is honoured to be on the PROFIT 500 ranking," says Managing Partner Phil Proctor. "This achievement reflects the dedication of our team and the commitment to solving our clients' business challenges."
About PROFIT and PROFITguide.com
PROFIT is Canada's preeminent media brand dedicated to the management issues and opportunities facing small and mid-sized businesses. For 34 years, Canadian entrepreneurs across a vast array of economic sectors have remained loyal to PROFIT because it's a timely and reliable source of actionable information that helps them achieve business success and get the recognition they deserve for generating positive economic and social change. Visit PROFIT at PROFITguide.com.
About Canadian Business
Founded in 1928, Canadian Business is the longest-serving, best-selling and most-trusted business publication in the country. With a total print readership of more than 600,000, it is the country's premier media brand for executives and senior business leaders. It fuels the success of Canada's business elite with a focus on the things that matter most: leadership, innovation, business strategy and management tactics.